Many New York City suburbs are endeavoring to become live-work-play environments – pocket-sized Manhattans – that may not be 24-hour cities, but 18-hour suburbs that are walkable, accessible and shoppable. Add to this historical stability and robust retail demand, and you find a great mix for many retailers and service-providers.
.
18-Hour Suburbs
Hugh Kelly wrote recently about the appeal of 24-hour cities and how a number of New York City suburbs have the features of 24/7 live-work-play environments: residential density, walkability, access to public transportation, and nearby Main Street shopping, restaurants and entertainment.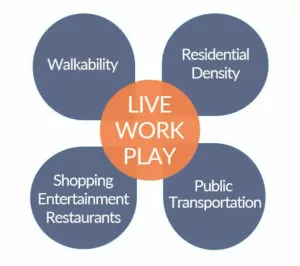 Many suburban communities have worked to offer many of the same live-work-play attributes, by encouraging multi-family developments, walkability and expanded dining and entertainment options. These changes have not only enriched life for entrenched suburbanites, they are making a move to the 'burbs less of a culture change for urbanites. In addition, the suburbs continue to offer more living space for fewer dollars, along with proximity to New York City, employment opportunities and good public schools.
Long-Term Stability
Both Westchester and Fairfield Counties are remarkably stable retail markets. The counties' proximity to New York City, affluent populations, limited land availability and high construction costs help keep inventory and vacancy levels within a fairly narrow range, even during periods of volatility nationwide.
Currently, Westchester County is near its top performance during the past six years, with average NNN asking rents approaching $29 per square foot and a vacancy rate below 4%.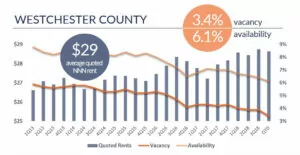 .
Fairfield County has had slightly more variability in rents, beginning 4th Quarter 2018 with a $30 per square foot NNN asking rent, down from its high of $31 per square foot earlier in the year. Vacancy, currently at 3.2%, is at six-year lows, with availability at 7.2% (Source: CoStar Analytics and Admiral Real Estate Research).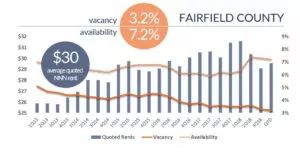 Remarkable Buying Power
Westchester's and Fairfield's populations, each just shy of 1 million, include a high percentage of families, and of Baby Boomers. Population growth is modest, but income levels are exceptional. Average 2018 household income in Westchester is estimated at $146,887; in Fairfield, $141,013; well over 50% higher than that of the entire U.S. and higher even than Manhattan's (Source: U.S. Census Bureau, ESRI Forecasts).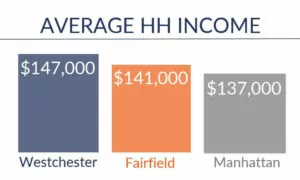 .
Strong income levels support high median household disposable incomes – $67,189 in Fairfield and $69,754 in Westchester. This translates into considerable retail demand.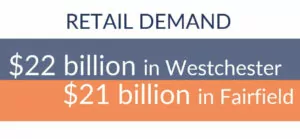 .ESRI and Infogroup estimate that overall retail demand in Westchester County reached $22.1 billion this year; $2.3 billion of that figure going to food and drink at restaurants and bars.  For Fairfield County, those figures were $21.1 billion and $2.1 billion, respectively.
.For more information, please contact Jonathan Gordon, President/CEO or call 914.779.8200 x115
.

Admiral Real Estate Services Corp. is a commercial real estate brokerage firm offering retail leasing, site selection and investment sales services. Based in Westchester, the company currently lists and/or manages over 100 retail, office and development properties in the New York metropolitan area.
_________________________________________
.Tags: 18-Hour Suburbs, New York City suburbs, Westchester County Retail Market, Fairfield County Retail Market, Westchester County Retail Real Estate, Fairfield County Retail Real Estate, commercial real estate, Westchester Retail, Fairfield Retail, Westchester Commercial Properties, Fairfield Commercial Properties, Westchester Commercial Real Estate, Fairfield Commercial Real Estate