New Larchmont Office Space | Save the Sound
Save the Sound, a non-profit organization committed to protecting and improving the land, air, and water of Connecticut and Long Island Sound, will be opening its new Larchmont office space at 1385 Boston Post Road in Spring 2021.
Save the Sound works across the entire Long Island Sound region in New York and Connecticut. Their many projects include:
Protecting drinking water lands on the Connecticut-Massachusetts border
Restoring coastal marshes on Long Island
Fighting for smart statewide climate policy in Hartford
Testing water quality in Westchester County's rivers and harbors
Saving Plum Island on the Sound's eastern end
.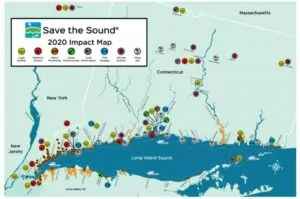 .
Haryn Intner of Admiral Real Estate Services Corp. represented the landlord in this transaction. The tenant was represented by Ian Ceppos of Jones Lang LaSalle.
.
Admiral Real Estate Services Corp. is a commercial real estate brokerage firm, offering investment sales, agency leasing and tenant representation services. Based in Westchester, the company currently lists and/or manages over 100 retail, office, and development properties in the New York metropolitan area.
A recent NYT article:
Larchmont, N.Y.: An Affluent Suburb on Long Island Sound
With a walkable downtown, spacious homes and proximity to Manhattan, this Westchester village has seen an influx of city buyers during the pandemic.
Larchmont — an affluent, walkable suburb on Long Island Sound situated about 20 miles from Midtown Manhattan — and the larger area within the 10538 ZIP code served by the Larchmont post office have seen an influx of buyers like the Laschewers, who made their move sooner than intended during the pandemic, drawn by the spacious homes with big yards, waterfront access, good schools and a vibrant downtown.
During the 19th century, the village was a popular summer retreat for wealthy Manhattanites. Today, it is one of the wealthiest areas in the country, offering a friendly and sophisticated small-town atmosphere to those who can afford the homes and the property taxes.
"Life in Larchmont mimics the lifestyle we were used to. We can still walk to get a coffee and go to the shops or the park, but we have much more space and a yard for our children to play in," Mrs. Laschewer said. "I love the laid-back, small-town vibe and how much easier it has been to make friends compared with living in Brooklyn, despite being in a pandemic. Everyone has gone out of their way to make us feel very welcome."