Bricks & Clicks  |  A new study by ICSC finds that retailers that open physical stores show significant increases in digital engagement.  
Physical Stores Increase Web Traffic
In 2018, the International Council of Shopping Centers (ICSC) conducted a study with Alexander Babbage, an Atlanta-based strategy and research firm, to get a better understanding of how bricks and mortar retail sites affect web traffic and brand awareness.
The study followed the effects of the opening or closing of 804 stores in 145 markets. The resulting report, The Halo Effect – How Bricks Impact Clicks, found that retailers that open new physical stores show significant increases in digital engagement, while retailers that close stores see reductions in online sales.
.

The effects are considerable. The report found that the opening of a new physical store increased a retailer's web traffic in that market by an average of 37% in the first quarter after opening. For less established retailers, the increase was even greater – and average of 45%.
.
Defining Brand Identity and Reinforcing Brand Awareness
It has frequently been pointed out that physical stores are a form of advertising for retailers that help define brand identity while reinforcing brand awareness.
.
.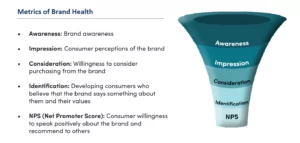 Source: "The Halo Effect", International Council of Shopping Centers
.
Of course, physical stores offer consumers the opportunity to touch and feel merchandise. But they also provide retailers the chance to personally interact with and learn about their customers, whether through customer service or, increasingly, through events at their stores.
.
Making Way for Experiences
Special store events and classes helps retailers link product with experience. This can be particularly valuable when trying to maintain connection with the large Millennials market.
In a Forbes interview, Katie Elfering, a CEB Iconoculture consumer strategist, summarized the following strategies in connecting with Millennials: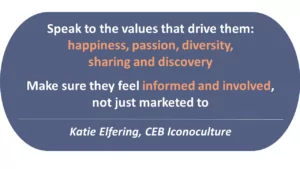 A physical presence offers retailers a setting to engage Millennials and other experience-centric customers.
Adding to Convenience & Efficiency
Convenience is another major benefit of integrating on-line presence and physical locations. While online shopping offers shoppers price comparisons, reviews and convenient browsing, there are almost too many options available. And although delivery can be handy, returns by mail are less so. Online shopping – from browsing to purchase to possible return – can take much longer than anticipated. This has prompted what some refer to as 'on-line fatigue'.
As long as five years ago, an Accenture report "The Secrets of Seamless Retailing Success" found that:
.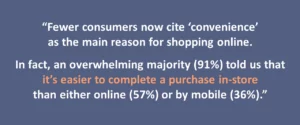 .
DJ Busch, Managing Director of Retail for Green Street Advisors and one of the contributors to the ICSC report, says one of the reasons retailers are investing in physical stores is they can operate more efficiently when they are proximate to their customers.  According to Busch, "The acquisition cost of customers by having a physical location is much lower and more efficient than online."
One Branch of Omni-Channel
Omni-channel marketing includes physical locations as another way for retailers to stay in front of their customers. Ultimately, what consumers want is better information, more convenience, added value and an improved experience, by combining in-store, online and mobile access.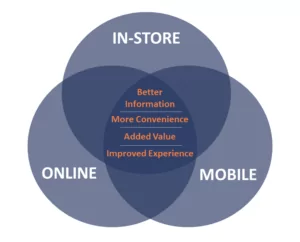 Oliver Chen, Managing Director and Senior Equity Research Analyst at Cowen, was also a contributor to The Halo Effect.  He believes that "integrating digital and physical, drawing in personalization, and using data to enhance the experience are all part of the solution."
In an earlier April 2018 interview with RetailNext, Chen placed particular importance on physical locations as a customer acquisition tool:
.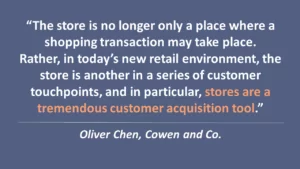 For further detail on the April 2018 interview, and Oliver Chen's description of the 3 C's, go to:
https://retailnext.net/en/blog/how-the-store-can-do-more-a-q-cowen-and-company-llc/
.For more information, please contact Jonathan Gordon, President/CEO or call 914.779.8200 x115
.

Admiral Real Estate Services Corp. is a commercial real estate brokerage firm offering retail leasing, site selection and investment sales services. Based in Westchester, the company currently lists and/or manages over 100 retail, office and development properties in the New York metropolitan area.
_________________________________________
.Tags: brick & clicks, New York City suburbs, Westchester County Retail Market, Fairfield County Retail Market, Westchester County Retail Real Estate, Fairfield County Retail Real Estate, commercial real estate, Westchester Retail, Fairfield Retail, Westchester Commercial Properties, Fairfield Commercial Properties, Westchester Commercial Real Estate, Fairfield Commercial Real Estate