Mixed Use Property Sale | Warburton Lofts
As the exclusive listing agent, Admiral Real Estate Services Corp. recently completed another investment property sale: a 15,000+ square foot portfolio of five adjacent buildings. The mixed use properties contain a total of seven loft apartments and five retail stores.
The Warburton Lofts are located in the heart of emerging downtown Yonkers; part of the ongoing dynamic revitalization of its historic waterfront.
.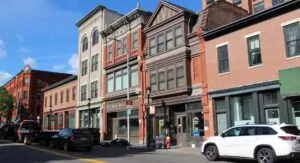 The buildings were an award-winning preservation project in the Philipse Manor Historic District. The site also benefits from a decidedly more modern amenity – a 300-space municipal parking garage located across the street.
Jonathan Gordon of Admiral Real Estate Services Corp. represented both the seller and buyer in this transaction.
.
Yonkers Commercial Real Estate | Multi-Phase Revitalization Effort to Transform Downtown Yonkers NY (quoted from New York NIMBY – August 2020 by Sebastian Morris).  The City of Yonkers NY is set to launch one of its largest investment initiatives to transform the downtown center into a vibrant mixed-use hub of commerce and residency. New developments will be primarily located at the confluence of the Hudson and Saw Mill Rivers.  Referred to as The Downtown Revitalization Initiative, the funds would largely focus on four major development projects: the Floating Dock, phase four of the Saw Mill River Daylighting, Chicken Island, and the Yonkers Greenway.  A municipal floating dock along the southern end of the historic City Recreation Pier now serves as a destination for environmental education ships and Hudson River cruise ships, among other public and private uses. The city envisions constructing a second floating dock along the pier's north side to foster the growth of water-borne tourism. This includes possible ferry service to and from New York City…To jump start the initiative, the City of Yonkers NY is working in collaboration with Local Planning Committee, a consortium of stakeholders that includes multiple city agencies, leaders from two business improvement districts and historic sites, community activists, the Yonkers Riverfront Library, the chambers of commerce, and an unnamed private developer.
Other Commercial Spaces in Yonkers
.
______________________________________________________..
Admiral Real Estate Services Corp. is a commercial real estate brokerage firm, offering investment sales, agency leasing and tenant representation services. Based in Westchester, the company currently lists and/or manages over 100 retail, office, and development properties in the New York metropolitan area.