Elmsford Bank Building Sold
The Elmsford bank building at 37 East Main Street, previously occupied by Sterling National Bank, was recently sold.  The building was delivered vacant.
The site is located on Main Street / Route 119 just east of South Central Avenue and the Saw Mill River Parkway, 2 blocks from the U.S. Post Office.  Nearby retailers include Stop & Shop, CVS, Chase Bank and Dunkin'.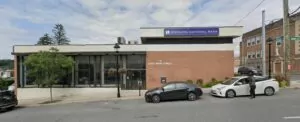 Delphi Commercial Properties, Inc. represented Sterling National Bank, the seller in the transaction.  Admiral Real Estate Services Corp. represented the buyer, a preferred developer for a major national retail concept..
.
Admiral Real Estate Services Corp. is a commercial real estate brokerage firm, offering investment sales, agency leasing and tenant representation services. Based in Westchester, the company currently lists and/or manages over 100 retail, office, and development properties in the New York metropolitan area.