We discuss what has been different during this economic cycle compared to the last, and how that affects Admiral's expectations for retail leasing in Westchester and Fairfield Counties in the coming months.
.
Why it's Different This Time Around
During the last economic cycle of 2001-2008, several retail sectors, such as banks and pharmacies, were expanding significantly in a bid to maintain and gain market share.  This competition for expansion space pushed retail rents sharply higher.
There have been notable differences during the current economic cycle, however, which have constrained rent increases and kept the retail leasing market much more balanced.  Slower growth and low inflation are important factors, as is new retail development in both Westchester and Fairfield Counties.  But another prominent moderating influence has been the structural change within the retail industry forced by e-commerce.
Structural Change 
E-commerce was clearly an emerging issue in 2000.  E-commerce sales grew an average of 25% per year between 2000 and 2005, albeit over a relatively small base.  In 2000, e-commerce represented only 1% of total retail sales.
By 2006, that figure had increased to 3%, with annual e-commerce sales breaching the $100 billion mark.  Retailers understood that they needed to begin investing in technology to remain competitive.  An online presence became an important driver for e-commerce sales, and also for in-store sales and brand awareness.
.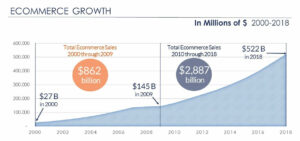 Source:  Retail Indicators Branch, U.S. Census Bureau, Admiral Real Estate
.
The advent of e-commerce squeezed retailers' profits.  Margins shrunk as competition increased.  Consumers comparison shopped online and 'showroomed' products at stores that they later purchased online (bridal gowns are a good example).  The costs of mobile apps, web sites, social media and distribution channels mounted.
This profit squeeze forced transformation and cost cutting in other areas.  Retailers began to reallocate dollars between bricks and mortar and technology, continually reassessing how digital and in-store sales interconnect.
Particularly for the retail categories most affected by e-commerce, such as apparel, books, music, electronics and financial services, the net results have been consolidation, store closures, and shrinking floorplans.
Take Banks for Instance 
Using banks as an example, between 2001 and 2010, the total number of bank branches in Westchester and Fairfield Counties increased by 181, or 29%.  Pharmacies were also expanding rapidly at that time, and as both vied for space, rents increased sharply.
After the 2008 debt crisis, banks pulled back in the face of a drastic economic slowdown.  By June 30, 2019, the number of bank branches in Westchester and Fairfield Counties had declined by 125 from its 2010 peak.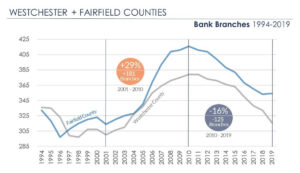 Source:  Federal Deposit Insurance Corporation, Admiral Real Estate
While banks are still actively looking for the best locations – Admiral completed two new bank openings in the last month alone – the past nine years' net closures have returned to the market almost the equivalent of the ½ million plus square feet of space that the banks expanded into prior to 2010.
Rebalancing in Retail Leasing
In part, retailers' space reductions in recent years represented a reaction to overexpansion prior to 2008, and the ensuing consumer slowdown.  Retail rents declined accordingly.  According to CoStar data, average asking rents in Westchester County dropped from $31 per square foot in 2006 to $26 per square foot in 2009-2010.
But since then, despite a long economic expansion, strong labor market and revitalized consumer spending, increases in retail rents have been subdued.  Average asking rents have hovered in the $28 per square foot range since 2016.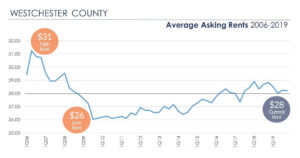 Source:  CoStar Analytics, Admiral Real Estate
One reason for static rents is added supply.  A significant number of new retail developments have been completed since 2010.  For example, in Fairfield County, The SoNo Collection and Bedford Square, and in Westchester County, Chappaqua Crossing, Armonk Square, Ridge Hill and numerous mixed-use projects in White Plains.
Another reason, as discussed above, is the still ongoing structural change forced by e-commerce.  Competitive pressures from e-commerce necessitated cost-cutting, and pushed investment toward technology rather than real estate, effectively establishing a ceiling on retail rents.
Because of this measured rebound, retail rents have not seen dramatic increases, and the retail rental market remains much more in balance than during the last cycle.
Experience Expands
If new development and structural transformation were the only stories in retail, rents would not have rebounded at all.
Although e-commerce has negatively impacted many retail sectors, it has had less of an effect on the experiential retail that has become so valued by consumers, such as food & beverage, health & wellness, services and entertainment. Growth in these areas generated the demand that has absorbed vacant space and buoyed rents.
These experiential uses are by definition local, helping support the neighborhood centers and main street type retail that serve resident markets. The below graphic, which outlines some of Admiral's recent retail deals, demonstrates this theme.
.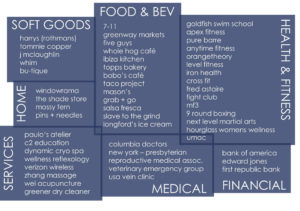 .
While demand from experiential retailers has been strong, their growth has been slower, and has not resulted in the frenzied competition for space we saw from banks and pharmacies in the years leading up to the 2008 financial crisis.
Muted Growth, Muted Decline
In this cycle, strong consumer spending and demand for experiential retail has supported modest improvement in the Westchester and Fairfield County retail leasing markets, while slower growth, new development and structural changes have maintained downward pressure.
The conflict between these forces has resulted in a much more balanced market than we experienced late in the last cycle.
Downturns are typically preceded by rising interest rates and an uptick in inflation, neither of which are a concern right now. But the inversion of the yield curve this past spring (although it has since normalized) indicates a recession somewhere on the horizon. Admiral's expectation is that the moderating forces active during this most recent economic cycle will help retail leasing markets in Westchester and Fairfield Counties pull off a soft landing.
.For more information, please contact Jonathan Gordon, President/CEO or call 914.779.8200 x115
.

Admiral Real Estate Services Corp. is a commercial real estate brokerage firm offering retail leasing, site selection and investment sales services. Based in Westchester, the company currently lists and/or manages over 100 retail, office and development properties in the New York metropolitan area.
_________________________________________
.Tags: Retail Leasing, New York City suburbs, Westchester County Retail Market, Fairfield County Retail Market, Westchester County Retail Real Estate, Fairfield County Retail Real Estate, commercial real estate, Westchester Retail, Fairfield Retail, Westchester Commercial Properties, Fairfield Commercial Properties, Westchester Commercial Real Estate, Fairfield Commercial Real Estate