Follow up to our prior blog about GE's headquarters move to Boston, including details of the Fairfield office campus sale and its impact on the town.

Redevelopment Options
As noted in our prior blog about GE headquarter's move, one of the first publicized proposals for the purchase of GE's Fairfield campus was from Kleban Properties. Kleban planned to redevelop the 66-acre property as an education and technology center for Fairfield University.
Below-Market Sale
Although the end use is similar, the final buyer is instead Sacred Heart University, whose main campus is located only 1 mile away. Sacred Heart has a history with GE, both as a Fairfield neighbor and as recipient of former CEO Jack Welsh's $5+ million donation to the University in 2006.  SHU's College of Business, named after Welsh, will be one of the programs moved to the new West Campus.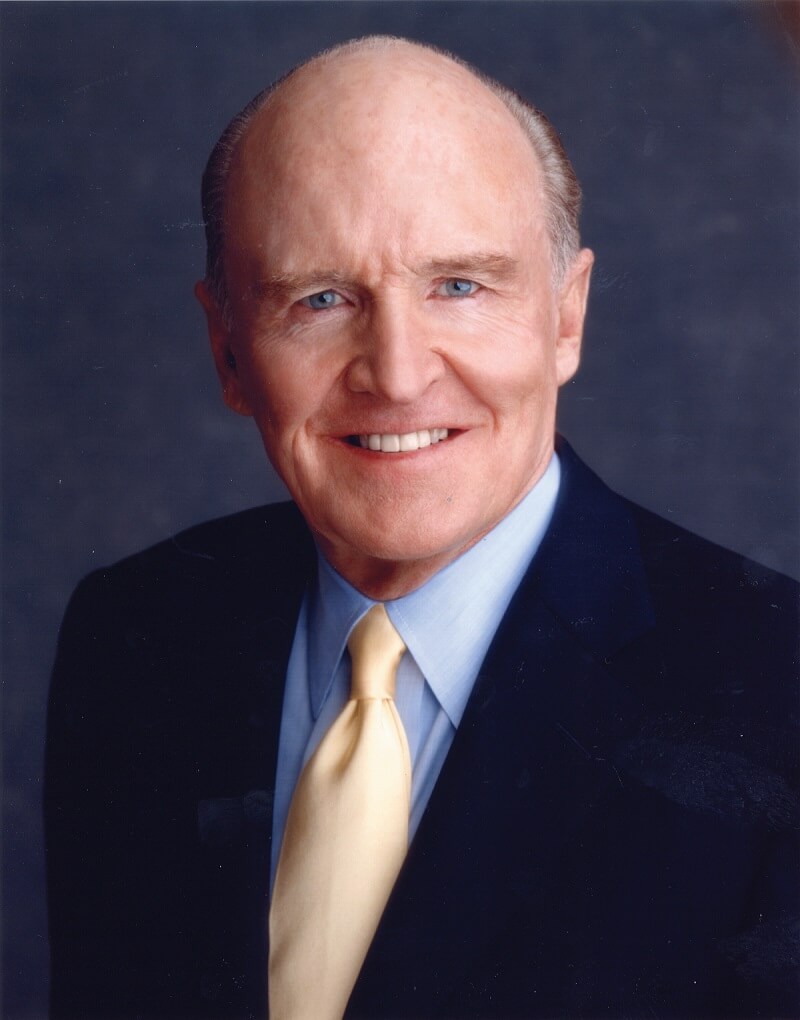 Former GE CEO Jack Welch. Image source: GE
SHU will be paying $31.5 million for the campus. Although about $50 million less than its estimated market value, the benefits to GE of a below-market sale to a nonprofit entity include significant tax write-offs.

The 1% Difference
GE's departure leaves uncertainty about the number of net job losses in the area over the long-term. There is no doubt, however, that the sale of GE's campus to Sacred Heart will negatively impact the town of Fairfield's property tax revenue.
SHU is a non-profit entity, which is exempt from property taxes. According to Fairfield's First Selectman Mike Tetreau, GE was paying approximately $1.6 million in property taxes annually.  Fairfield's 2016-2017 town budget is $130 million, which means GE's property taxes alone comprised 1.2% of the total budget.
Making Up for Lost Revenue
The selectman said in a recent video posting (see below) that a payment in lieu of taxes (PILOT) program is expected to return roughly 25% of the lost tax revenue, although the length of PILOT program and the future outlook of this state grant is uncertain. Even with the PILOT payments, the town of Fairfield will still be down about $1.2 million, or 1% of budget.
The town will try to find ways to replace the lost tax revenue, through tax increases and growing non-tax revenue, but most likely will have to cover at least part of the deficit by reducing spending.  Tetreau suggested budget cutbacks will need to include cuts to the BOE (Board of Education), which accounts for 56% of Fairfield's total spending.
TOWN OF FAIRFIELD – 2016-2017 BUDGET ALLOCATIONS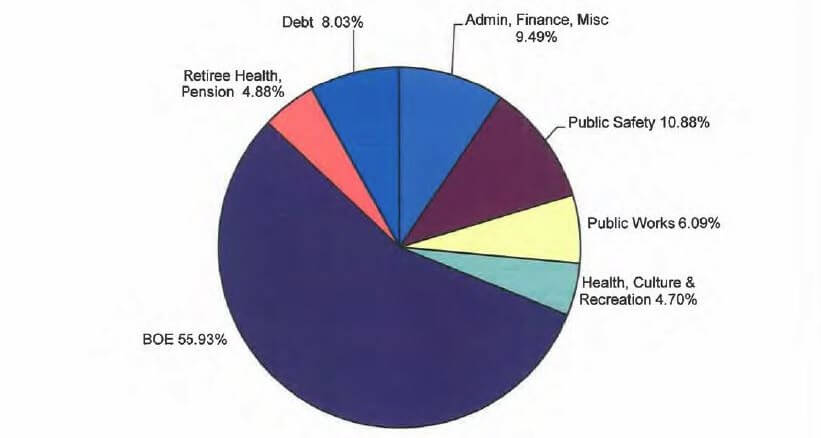 BOE = Board of Education. Image source: Town of Fairfield
SHU Space in Trumbull
Sacred Heart currently houses its College of Education, art & design program and the University's business office in 97,500 SF of office space in Trumbull.  These programs will be relocated to SHU's new West Campus, adding back about 4% to Trumbull's 2.6 million square feet of office inventory.
Future Outlook
Sacred Heart is confident that it has much to offer the town of Fairfield in the form of potential new job creation by adding more faculty, additional students and daily visitors. According to Michael Kinney, senior vice president for Finance & Administration at SHU, "New direct and indirect spending driven by operational and capital spending by the University, its employees, new students and their families and visitors would be a minimum of $27-33M annually."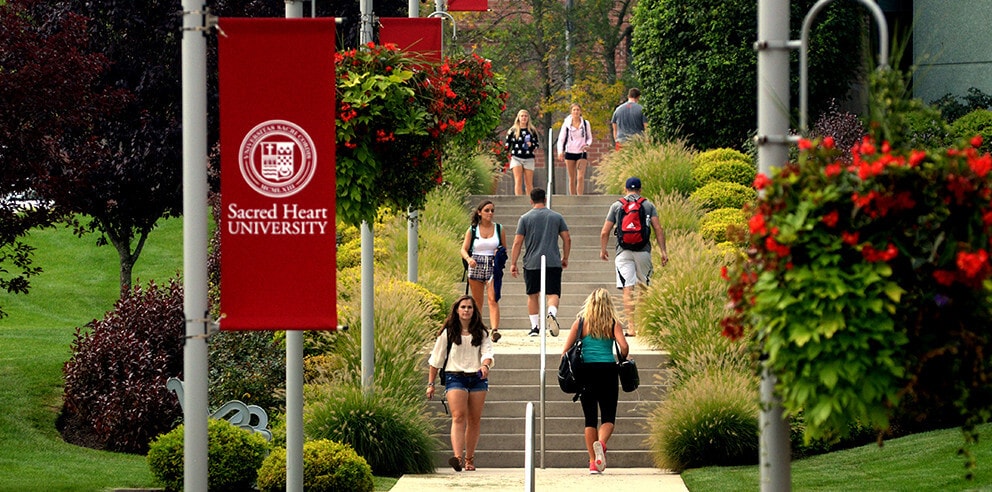 Image source: ctviewpoints.org
For more information, please contact Jonathan Gordon, CEO/Corporate Broker or call 914.779.8200 x115.
—————————————————————
Admiral Real Estate Services Corp. is a commercial real estate brokerage firm, offering agency leasing, investment sales and tenant representation services. Based in Westchester, the company currently lists and/or manages over 100 retail, office and development properties in the New York metropolitan area. Admiral also handles Fairfield office and retail leasing in Southern Connecticut. 
—————————————————————
Tags: commercial office space, ct budget, fairfield, fairfield county ,fairfield county commercial real estate, fairfield office, ge fairfield, ge fairfield ct campus, jack welch college of business, pilot tax, sacred heart business school, sacred heart fairfield, sacred heart univiersity, town of fairfield