Advanced 2016 holiday retail sales numbers were released by the U.S. Census Bureau earlier this month. We take a look at those numbers broken down by category and give you the winners, losers and future outlook for retail.

The Results Are In
On January 13th the U.S. Census Bureau released estimated Retail and Food Services sales numbers for the 2016 holiday retail sales season. The numbers look solid. For December, sales were estimated to be $469.1 billion, a 4.1% increase from the same month last year. Total estimated retail sales for 4Q16 were also up 4.1% from 4Q15.
Motor vehicles & parts, which is by far the largest component of retail sales, represented $292 billion (20%) of retail sales in 4Q16.  They were particularly strong this year, up 5.2% from 4Q15, carrying total retail sales figures higher.  When excluding motor vehicles & parts, 4Q16 sales were up 3.8%.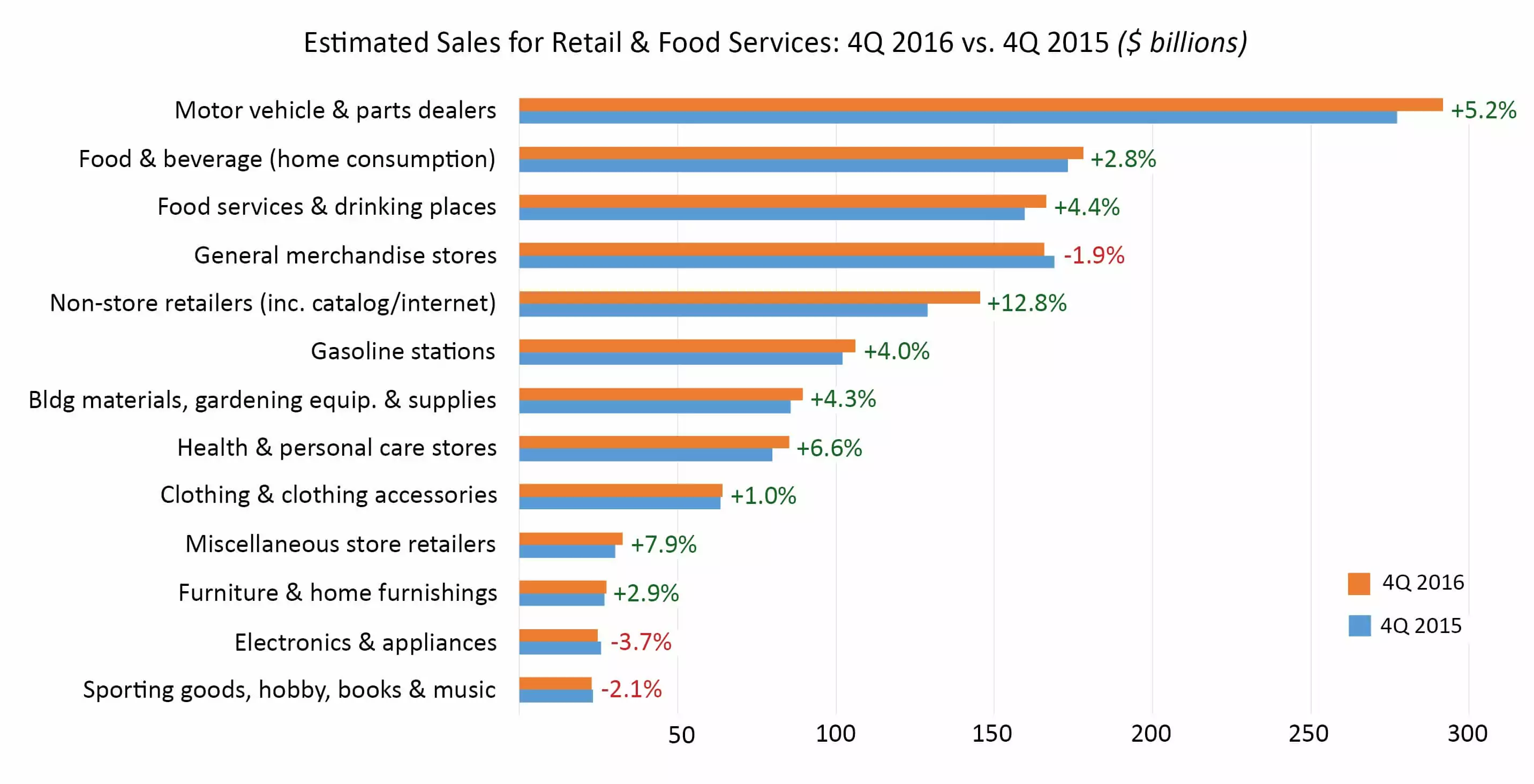 (Source: U.S. Census Bureau & Admiral Real Estate Research)
Winners
Non-store retailers, which is composed primarily of catalog and internet sales, saw the biggest percentage gain at

+12.8%

.
Next at +7.9% was miscellaneous store retailers, which includes florists, office supplies, stationary and gift stores, used merchandise stores and pet and pet supply stores.
Health & personal care stores such as pharmacies also saw significant +6.6%


Losers
Electronics and appliances showed a decline of

-3.7%

.
The broad category of sporting goods, hobby, books & music had a decline of

-2.1%

.
Finally, general merchandise stores saw an overall drop of

-1.9%

.
However, department store sales, which make up about 25% of this category, were the primary cause for the decline, dropping -7.6% from 4Q15.  Big box retailers like Macy's, Kohl's and J.C. Penney reported particularly weak in-store holiday sale numbers.
In contrast, sales for warehouse clubs and supercenters, which make up about 65% of general merchandise store sales, were flat.
Non-Food Services Excluded from Data
It is important to note when looking at Retail Sales and Food Services data that it does not include many of the faster growing sectors of retail trade that are housed in bricks and mortar: non-food services, particularly personal services, health, fitness and entertainment.  (Admiral will dig in more about the changes in spending in the services sector in a follow-on post.)

(Sources from left to right: aria, MGM Resorts International & fitnesslodge.blogspot)
What the Numbers Are Saying
The data is consistent with continued economic recovery.  The unemployment rate hit 4.6% in November, the lowest it has been since August 2007, and wages are starting to rise, according to the Bureau of Labor Statistics. That's the same reason the Fed felt comfortable raising rates in December.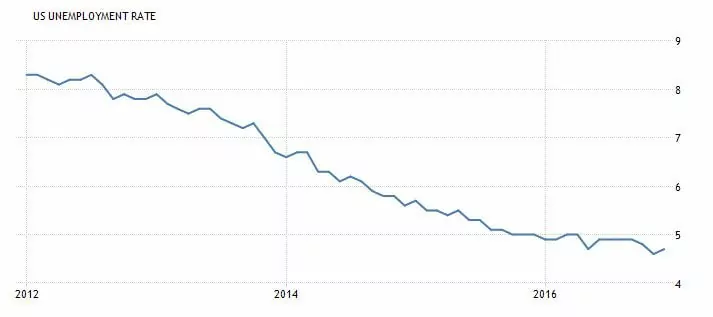 (Source: tradingeconomics.com)
Although there was a slow start to holiday spending, sales picked up at the end of the year.  According to the National Retail Federation's CEO Matthew Shay, "Retail mirrors the economy. And while there might have been some bumps in the road for individual companies, the retail industry overall had a solid holiday season and retailers will work to sustain this in the year ahead."
Expectations for 2017
Retail and food services sales for the full year, excluding automobiles, increased 2.8%, about 0.7% higher than CPI. Although by no means outsized, this is a respectable increase that is in line with the general sentiments of the retail industry and commercial real estate professionals, who are cautiously optimistic about the year ahead.
Detail on those sentiments can be found in surveys such as the NAIOP Sentiment Index, in which commercial real estate investors signaled expectations for continued, albeit slower, growth.
Similarly, a widely-followed indicator of business sentiment in the U.S. is the National Federation of Independent Business (NFIB) Small Business Optimism Index. According to the latest index for December 2016, optimism rose 7.4 points in December, which equates to the highest December reading since 2004.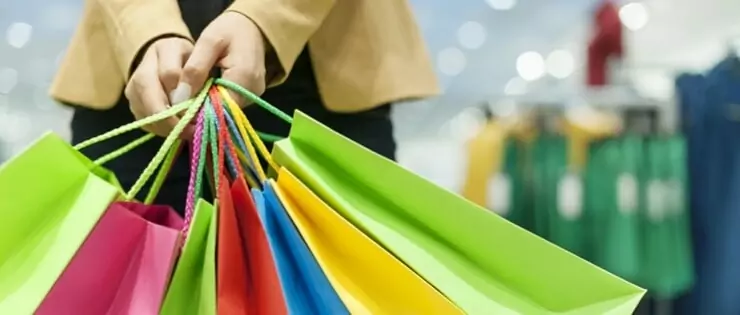 (Source: National Retail Federation)
NFIB Chief Economist Bill Dunkelberg reported, "This is the second consecutive month in which small business owners reported a much brighter outlook for the economy and higher expectations for their businesses."
For more information, please contact Jonathan Gordon, CEO/Corporate Broker or call 914.779.8200 x115.
—————————————————————
Admiral Real Estate Services Corp. is a commercial real estate brokerage firm, offering investment sales, agency leasing and tenant representation services. Based in Westchester, the company currently lists and/or manages over 100 retail, office and development properties in the New York metropolitan area. 
—————————————————————
Tags: holiday retail sales, retail holiday sales 2016, naics code, us census bureau, mrts, holiday sale, retail and food services sales, retail sales results, retail trade sales, retail holiday season, gas station, hobby, sporting goods, non store retailing, general merchandise store, electronics and appliances, health and personal care stores, miscellaneous store retailers, food services and drinking places, national retail federation, nrf