Between 2016-2018, Westchester County will have added roughly 2,200 new market-rate multifamily rental units*. This is over double the historical average and will increase existing inventory by about 2%. It is expected that incentives offered to lease up these new units will have a minor short-term impact on net effective rent growth and vacancy rates in the wider multifamily rental market.
Many of the new multifamily developments are transit-oriented, located within walking distance of Metro-North commuter lines.  This reflects both demographic and lifestyle changes.  Millennials are moving to the suburbs after starting to have families of their own, while Baby Boomers are downsizing.  At the same time, preferences for flexibility, less responsibility and space, and lower costs are driving apartment rentals and lowering home ownership levels.
The much publicized 2009 settlement between Westchester County and HUD forced new focus on creating the required 750 affordable housing units in 31 communities where affordable housing was not as prevalent. This has influenced almost all new developments, most of which now include at least 5%-10% of their units for affordable housing.
Just this week, Normandy Real Estate Partners and Toll Brothers received approval to build 421 rental apartments in Harrison including 42 affordable units, re-purposing two functionally obsolete office properties on Platinum Mile.
Although the nuances and details of the affordable housing agreement are too extensive to be addressed here, we've added within our text links to further information on Westchester's progress.

Construction Uptick:

Approximately 2,200 Market-Rate Rental Units to be Delivered 2016-2018
In 2016, multifamily construction began to heat up, nearing 2008 levels.  According to our estimates, when excluding condominiums and university housing, approximately 2,200 market-rate rental units will be added between 2016-2018*, adding 2% to current rental inventory.  Roughly 670 affordable / workforce housing units will also be delivered, about 200 of which will be part of primarily market-rate developments.
Westchester County – Estimated Multifamily Rental Unit Deliveries
* For 2016-2018, includes only projects already completed or currently under construction.
Sources: CoStar Group Inc. and Admiral Real Estate Research
The below map displays 21 under construction and recently completed multifamily rental properties, along with 32 proposed projects: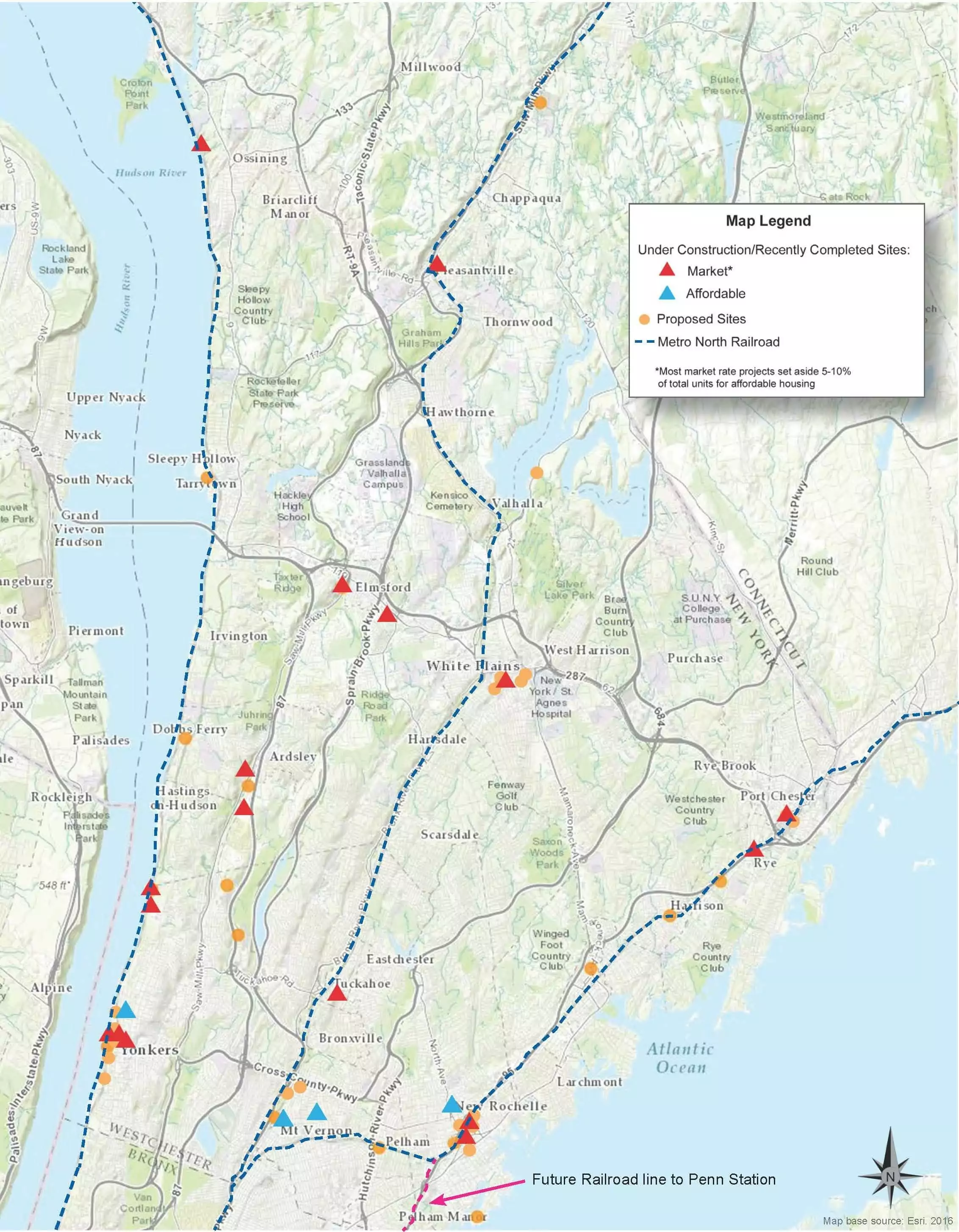 There are proposed projects north of Millwood not shown on the map,
including two in Peekskill and one in Baldwin Place.

Easy Commute:

Transit-Oriented Development (TOD)
What's clear from the above map is that development activity is largely focused around transit, along Metro-North Railroad lines. This is no surprise.  Historically cities and towns have always developed around transportation such as railroads and major roads. Today we are seeing, more specifically, a focus on development within walking distance of public transportation and entertainment.
Urban cities like White Plains and New Rochelle are attracting more options for nightlife with restaurants, bars, fitness, retail, shopping and the arts. Much of the new development in White Plains, Yonkers, Mount Vernon, New Rochelle and other towns is located just a short walk to the Metro North stations.

Lifestyles Lead The Way:

Millennials Go Suburban, Boomers Downsize
Apartment construction has been buoyed in part by lifestyle preferences, such as being close to public transport and preferences for the flexibility of renting. But demographics are also a factor. The large Millennial generation is beginning to age into family-building years, prompting moves to the suburbs. Millennials are estimated to compose between 35-45% of the apartment rental market in Westchester. Conversely, many retiring and empty nesting Baby Boomers are downsizing from houses into apartments.
Rental apartments are for the most part more affordable.  Housing costs in Westchester County are notoriously high compared to many other areas, with a median home sales price of $640,750 in 2Q 2016. Many young people, having seen their parents suffer through the housing crisis, no longer view home ownership as paramount. Moreover, a large number are paying off student loans and find home ownership simply out of reach financially.

Concessions Stand:

Effects on Vacancy & Net Rents
We have started to see an uptick in vacancy and a flattening in net effective rent growth as larger numbers of units are being absorbed. Many new projects offer incentives or concessions, which pressures owners of existing multifamily rentals to do the same.  This trend is also prevalent in New York City.
Although the most common concessions are rent reductions and free rent, other concessions include landlord-paid broker fees, discounted security deposits and free memberships to building amenities such as gyms and pools.
Westchester County – Unit Deliveries, Net Rents & Vacancy
Sources: CoStar Group Inc. and Admiral Real Estate Research

Affordable Housing Progress:

Westchester Strives to Meet Affordable Housing Goals
In a 2009 settlement with the U.S. Department of Housing & Urban Development, Westchester County was mandated to produce 750 "Affirmatively Furthering Fair Housing" (AFFH) units in 31 eligible municipalities by 2016. Per the County's implementation plan, these 750 units were expected to include senior housing (<=25%), rental (>=50%) and for-sale units. The units did not have to be completed by 2016, but required financing and building permits in place.
Although roughly 1,700 workforce housing units are expected to have been completed between 2009-2018, the majority are located within ineligible communities and do not count toward the settlement requirements.
As the agreement deadline looms, Rob Astorino, Westchester County Executive, believes the County has met its obligations under the HUD agreement.  However, assessment of compliance is complicated, and the monitor's review continues.
Rendering of The Lofts at Saw Mill River, Hastings-on-Hudson.
Image Credit: Ginsburg Development Companies

Higher Density Development:

A Long-Term Trend
The levels of multifamily construction we're seeing in Westchester County are indicative not only of a cyclical uptick, but also of a trend toward higher density development. This is good news for Westchester because it will help provide a wider range of housing choices, allowing greater opportunity for lateral movement of residents within the County – for instance, Baby Boomers who sell a single-family home and move into an apartment – as well as for the addition of new residents – such as college graduates who would like to stay in or move to Westchester County, as well as people priced out of Manhattan and the surrounding boroughs.
For more information, please contact Jonathan Gordon,  CEO/President, or call 914.779.8200 x115
—————————————————————
(*)  When including only projects already completed or currently under construction.  Please note that these delivery figures also include developments that started as condominiums but became rentals, such as The Monarch in Yonkers and The Horizon in Mount Vernon.
—————————————————————
Admiral Real Estate Service's investment sales team specializes in exclusively representing private and institutional property owners in the sale of their properties in the New York Metro area, including Westchester County multifamily properties.  We also handle commercial property sales in Westchester County and Fairfield County, including retail, office, industrial and mixed-use properties, vacant land and bulk unsold cooperative and condominium units/shares.
—————————————————————
Tags: commercial real estate, westchester real estate, real estate investing, commercial property for sale, commercial real estate for sale, apartment buildings for sale, commercial real estate westchester ny, buildings for sale, land for sale westchester county ny, multifamily for sale, commercial real estate broker, commercial buildings for sale, westchester commercial real estate, real estate investment firms
—————————————————————
Disclaimer: The information contained within this report is gathered from sources considered to be reliable. The information may contain errors or omissions and is presented without any warranty or representations as to its accuracy.