Record Growth in Bank Branches 2000 – 2010
The banking boom prior to the Great Recession resulted in a record number of new retail bank branches opened in Westchester and Fairfield Counties between 2000 and 2010.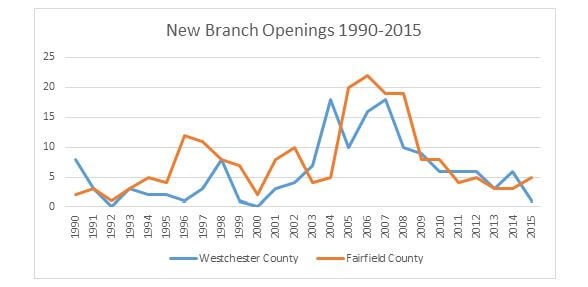 For years ending 6/30. Sources: FDIC and Admiral Real Estate Research


 
Fintech & Cost Cutting: Fewer Branches, Smaller Floorplates
The growth of financial technology and online banking are causing extensive changes in the industry.  There have been numerous articles describing recent consolidations, and the decrease in retail space needed by banks.  Online banking and financial technology reduce the number of physical branches needed, as well as the space within each branch.  Banks are also focused on space reductions to cut costs, to help cover required investments in technology, including back office data centers.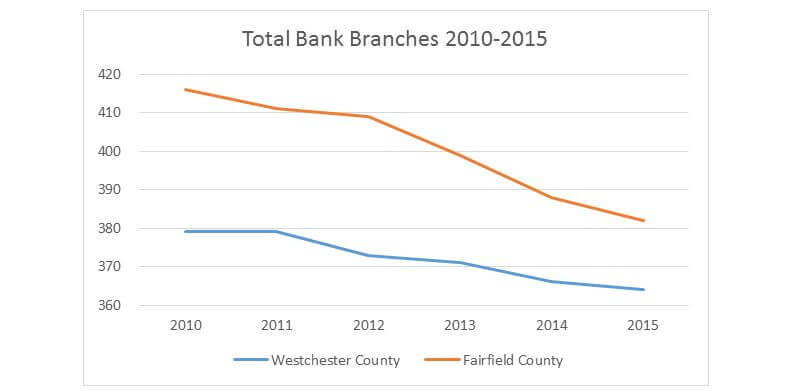 For years ending 6/30. Sources: FDIC and Admiral Real Estate Research

Banks: Assessing Potential Cost Savings
Resize. Although the current size of bank branches averages about 4,000 square feet, their new preferred floorplate is between 2,000 SF to 2,500 SF, leaving a lot of room for potential cost savings.
Drive-Thru Optional. Once an imperative, drive-thrus are no longer a requirement. Banks are now more focused on 'touching the customer'.
Lease Terms. Typical bank lease terms are 5 years, with multiple 5-year options to renew (or longer terms with cancellation rights). These relatively short terms give banks the ability to renegotiate leases, downsize, move or close as their leases expire.
Rent Reductions. In the go-go expansion years, banks had a propensity to pay top dollar for space, which drove a lot of rent inflation prior to 2008. Upon lease expiry, or in exchange for early renewals, banks may be able to obtain reductions from their existing rents.
Vaults. Without a restore clause, a bank can leave their space as-is, with the vault still in place. Newer branches have much smaller vaults, which are easier to disassemble and move.
Moving & Build-out Costs. High moving and build-out costs (e.g. vaults, technology) may make moving prohibitive for banks.
Relocation vs. Downsizing. However, relocating rather than downsizing allows a bank to maintain uninterrupted operations, rather than closing while under renovation.

Inventory: Today & Tomorrow
By our rough estimate, approximately 3% of Westchester & Fairfield's existing retail inventory is occupied by banks, or about 1.5 million square feet in each County.

Sources: FDIC, CoStar, Admiral Real Estate Research; *estimated
To assess the effect bank downsizings and closures might have on our local real estate markets, we created a hypothetical scenario for the next five years.
Scenario: A Possible Tomorrow
Market sources tell us they expect about 25% of existing branches will close in the next five years as leases roll, bringing us back to the number of branches we had in the year 2000.  With that in mind, we created the following hypothetical scenario:
25% of bank branches close
25% reduce their size to an average of 2,500 sq.ft.(by either moving or reducing space leased)
50% remain the same
This scenario would return roughly 500,000 SF of space to each County's retail real estate market within the next five years. 

Sources: FDIC, CoStar, Admiral Real Estate Research; *estimated
These new vacancies will take time to absorb.  An additional factor affecting Westchester and Fairfield retail will be potential adjustments in market rents relating to these dynamics.
Given the fast pace of change in financial technology, in two years we will have a much better sense about the accuracy of this hypothetical scenario.

Banks Still Want Access to Lucrative Westchester and Fairfield Markets
Although financial technology will continue to change how people bank, most people still do require the ability to complete face-to-face transactions.  Newer, smaller layouts allow banks to focus on cross-selling, such as originating loans and offering brokerage services.

With income and net worth figures that are double national averages, Westchester and Fairfield Counties continue to represent a lucrative market for banks, not only for deposits, but also for cross-selling.
.
———————————————————————————————————-
Admiral Real Estate Services Corp. is a commercial real estate brokerage firm, offering agency leasing, investment sales and tenant representation services. Based in Westchester, the company currently lists and/or manages over 100 retail, office and development properties in the New York metropolitan area.
Tags: bank branch closings, bank branch trends, retail banks, retail banking trends, bank closures, bank real estate
For more information, please contact Jonathan Gordon, CEO/Corporate Broker or call 914.779.8200 x115.