There is no doubt that e-commerce is having a huge impact on the way people shop.  However, traditional brick-and-mortar stores still dominate retail sales in the U.S., and will continue to do so.  It is undeniable that e-commerce has fundamentally changed the way customers shop, and the size and layout of retail stores.  But physical locations remain necessary for most retail, particularly for the fast growing services sector.

Hunters vs. Gatherers
E-commerce has changed the way consumers shop.  Webrooming (a/k/a ROPO – research online and purchase offline) allows consumers to be extremely knowledgeable about what they want to purchase and where to buy it – prior to hitting the store.  Before e-commerce, shopping consisted of a lot of in-store browsing and some purchasing.  Now, consumers often research on-line and go to the store with a specific purchase in mind.
Liz Holland, CEO of Abbell Associates, calls this the switch from gatherers to hunters: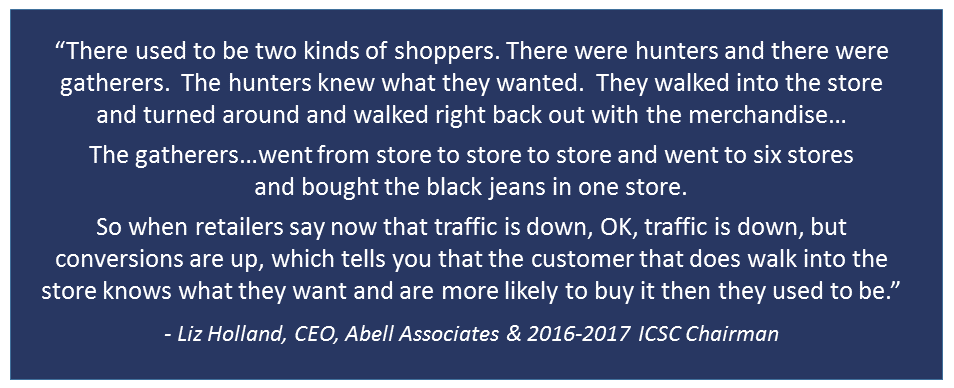 Using Technology to Support the Physical Store
E-commerce certainly funnels some sales away from physical stores, but it can
also help support in-store sales.  The vast amount of information available online now allows consumers to research their purchases ahead of time, rather than spend time as much time browsing in shops.  As a result, traffic in stores is down, but conversions are up.  In other words, there are fewer people in stores, but those that visit the store are more likely to make a purchase.
A great example, also given by Liz Holland, of technology reinforcing the physical store can be found in the largest train station in Seoul, Korea. As commuters walk through the station, they can log into a retailer's shopping app on their phone.  Large green screens on the station walls are then populated with the items the commuter typically buys at that store, along with QR codes. The commuter just scans with their phones which items they want to buy.  They can then choose to get it delivered or to pick it up at the nearest store on their way home.
Physical Stores Supporting E-Commerce
Further evidence that physical stores are necessary is Amazon's purchase Whole Foods Market for $13.7 billion which closed last week.
Whole Foods' 460+ stores in the U.S., Canada and the U.K. will help Amazon offer in-store pickup, a key feature of omni-channel retail.
"Amazon clearly wants to be in grocery, clearly believes a physical presence gives them an advantage," – Michael Pachter, an analyst at Wedbush Securities Inc.
In-Store Only Experiences
Many of the faster growing retailers are in the service sector: restaurants, fast casual, health and fitness, urgent care and entertainment.  The bulk of these retailers don't face competition from e-commerce because their services can only be provided at a physical location.
In 4th quarter 2016, General Growth Properties (GGP) conducted an 80,000 person shopper intercept survey, asking people what category of uses they would like to see in their regional shopping center. Three of the top four (grocery store, day spa, bowling alley and brewery) are in-store only concepts.
Understanding the Breakdown of E-Commerce Sales
Last year, the International Council of Shopping Centers (ICSC) conducted an analysis of e-commerce sales.  What they found was surprising.
Despite what much of the media has reported regarding e-commerce sales, traditional brick-and-mortar stores are still dominating total retail sales in the U.S. The narrative that pure-play e-commerce will lead to the demise of traditional brick-and-mortar retail is simply utrue.  The real story is evident in the breakdown of retail sales figures from the census bureau.
The ICSC study found that of the $4.6 billion in total retail sales from 2014 (the most recent full-year data), 8.3% was for the NAICS category 'Electronic Shopping and Mail Order':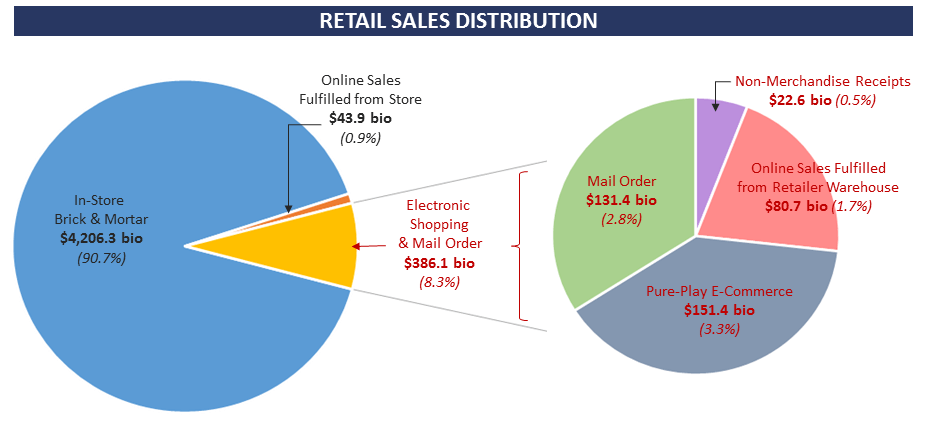 Sources: 2014 U.S. Census Retail Trade Sales Annual Report, ICSC Research, Euromonitor, ICSC's "Deconstructing the Census Bureau's Retail Trade E-Commerce Figures" in Retail Property Insights Vol. 23, No. 1. 2016, Admiral Real Estate
.
That figure includes more than just pure-play e-commerce retailers, which represents a much smaller 3.3% of total retail sales.  The remaining 5.0% includes catalog mail order sales (which includes drugs, health and beauty aids), online transactions of brick-and-mortar retailers and non-merchandise receipts (which includes customer training and support, advertising and shipping and handling).
Not a Binary Choice
The challenge with assessing the real impact of e-commerce is that consumers don't make a binary choice between in-store shopping or e-commerce.  Particularly since the advent of the mobile phone, shoppers rely on a blend of both.
E-commerce brought consumers numerous advantages: price comparisons, reviews, convenient browsing, home delivery. But research has indicated that shoppers are beginning to have online fatigue, as the ever-increasing availability of information and buying alternatives on the internet has offered them almost too many options.  Delivery is appealing, but scheduling deliveries can be a problem, and returns by mail are time consuming.
Ultimately, what consumers want is a blend of the advantages of in-store, online and mobile shopping.  As such, physical retailers will continue to be a driver of e-commerce sales, and of order fulfillment and returns support for many e-commerce retailers.  And for the bulk of growing service and entertainment uses, bricks and mortar are a simple necessity.
.
_________________________________________
.
Click below to watch a video of the excellent ICSC RECon Q&A with Liz Holland (CEO of Abbell Associates LLC and ICSC Chairman 2016-2017) hosted by Perlmutter Properties Inc.:
.
.For more information, please contact Jonathan Gordon, CEO/Corporate Broker or call 914.779.8200 x115
.Admiral Real Estate Services Corp. is a commercial real estate brokerage firm, offering tenant representation for retail space and office space, agency leasing and investment sales services. Based in Westchester, the company currently lists and/or manages over 100 retail, office and development properties in the New York metropolitan area.
_________________________________________
.Tags: e-commerce, e-commerce sales, e-commerce retail, effects of e-commerce, ICSC, international council of shopping centers, omni-channel retail, amazon, whole foods market