50 Million Sq. Ft. in Eight Submarkets
Westchester County has an estimated 50 million square feet of total retail space for its 961,000 residents, a ratio of 52 square feet per capita. This ratio is in keeping with the United States average, although Westchester County retail tends to be in smaller centers.
According to CoStar, an independent commercial real estate research firm, approximately 37% of Westchester County retail is contained in shopping centers of varying sizes (such as community, neighborhood, strip, power and specialty centers, as well as malls).  This compares to 43% in the United States as a whole.  Westchester's remaining 62% of retail is labeled 'general retail': usually freestanding buildings with an average size of less than 10,000 square feet.  This category includes most Main Street type retail, as well, although a few Main Street type properties are classified by CoStar as strip centers.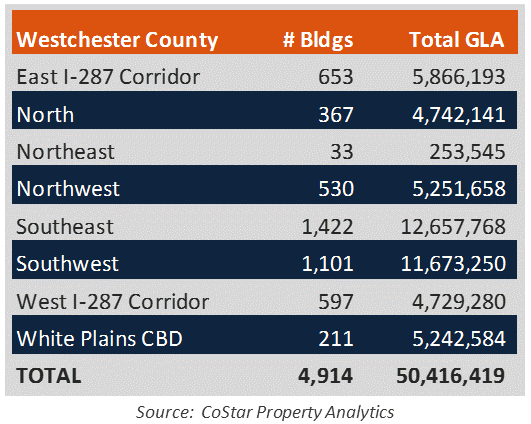 Remarkably Stable
In relation to many other markets in the Northeast, Westchester County is a remarkably stable retail market. Westchester's affluent population, limited land availability and high construction costs help keep inventory and vacancy levels within a narrow range, even during periods of volatility nationwide.
The graph below indicates that Westchester's overall vacancy rate has averaged between 5.1% and 6.3% over the last ten years, a range of only 1.2%, even when spanning pre- and post-Great Recession years. The range between high and low vacancy rates has been higher within individual submarkets, of course, but still within a relatively small band of 1.2%-3.8% since 2006 (excluding the small Northeast submarket).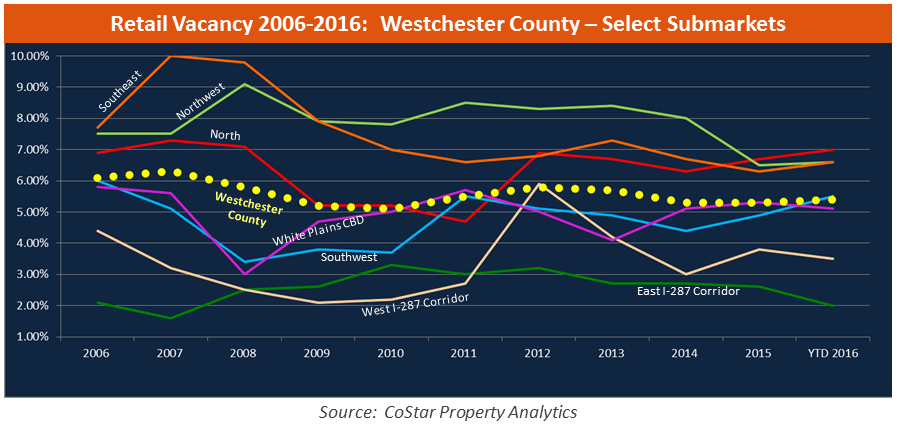 Adjusted Rents
After the Great Recession, there was no specific year representing a definitive trough, since each submarket had its own individual forces affecting the retail environment. Differing tenant credit strength and lease expiries caused vacancy rates to peak and rents to bottom out at varying times in different submarkets.
However, as shown below, Westchester County as a whole hit bottom in 2010. Westchester County average NNN asking rents showed a fairly steady decline from a high of $30.77 per sq. ft. in 2006 to a low of $25.89 per sq. ft. in 2010, a spread of 16% (although that percentage would be lower if comparing total rent costs including NNN reimbursements). It took three years for average asking rents to breach the $27.00 per sq. ft. NNN mark in 2013, about 11% off of their 2006 peak, where they have hovered since.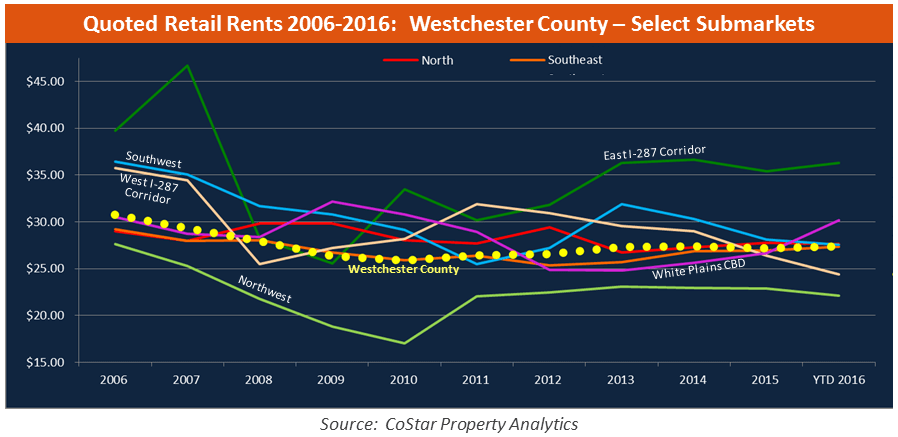 Between 2006-YTD 2016, CoStar data shows rent volatility highest in the East I-287 Corridor and Northwest submarket, the submarkets with the highest and lowest asking rents, respectively. Asking rents in the East-I287 Corridor, which includes the towns of Harrison, Portchester, Rye, West Harrison and parts of White Plains, are buoyed in part by high rents in Rye. In contrast, averages in the Northwest submarket are reduced by the lower average rents currently found in the upper Hudson Valley towns of Ossining, Peekskill and Cortlandt Manor.
The North and Southeast submarkets saw the least rent volatility, with average NNN asking rents dropping only 10% and 13%, respectively, from their highs of $29-$30 per square foot. Mirroring the Westchester County market as a whole, average NNN asking rents in these two markets have settled in the $26-$27 per square foot range since 2013.

Admiral's summary report on select Fairfield County submarkets will follow shortly.