Main Street Retail
Fairfield County has an estimated 48 million square feet of total retail space for its 940,000 residents, a ratio of 51 square feet per capita, comparable to both the national and Westchester County averages.
There are 23 towns in Fairfield County, the largest 18 of which are designated Fairfield County submarkets by CoStar, an independent commercial real estate research firm.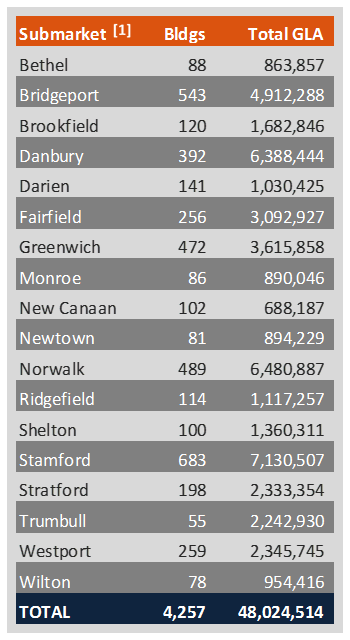 Fairfield County's retail real estate inventory, like Westchester's, is comprised primarily of smaller-sized 'general retail' buildings. This would be expected in smaller submarkets like New Canaan, but is also true in a large market like Greenwich, where the majority of retail space is located not in shopping centers, but along main shopping thoroughfares like Greenwich and Putnam Avenues that house multiple smaller buildings.
Fairfield Vacancy at 5% since 2015
Fairfield's overall vacancy rate has averaged between 4.4% and 6.2% over the last ten years, a range of only 1.8% [1].  Unsurprisingly, individual submarkets have shown greater variability.  The chart below displays vacancy for a select five of the southernmost Fairfield County submarkets, along with the average for all of Fairfield County.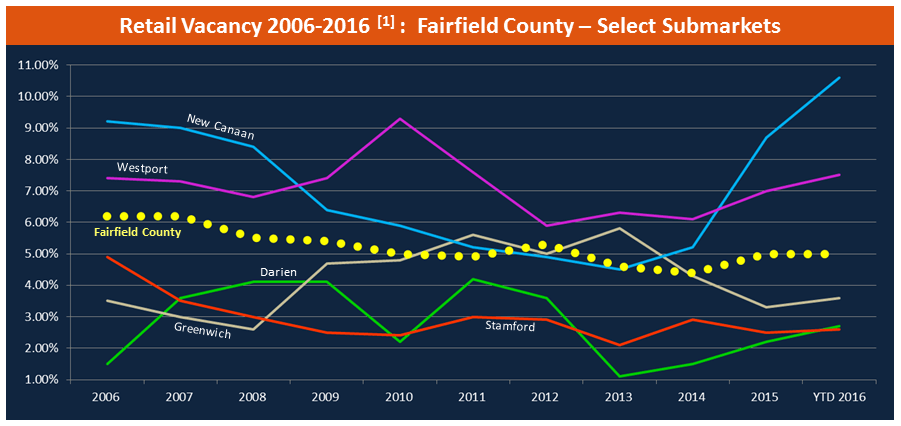 Of the above five submarkets, New Canaan had the greatest range in vacancy since 2006, in part due to its relatively small size, hitting a low of 4.5% in 2013 and a high of 10.6% in early 2016. However, the 2016 vacancy figure appears inflated, since it includes over 7,500 square feet of space not being marketed, as well as a fair amount of office or quasi-office space that is listed as both retail and office.  Vacancy rates for the remaining four submarkets stayed within about a 3% range of variability, although Westport has generally hovered between 6%-8%, while some markets such as Stamford and Darien have consistently maintained vacancy rates under 5%.


High Rent Districts
Even in comparison to other prosperous New York City exurbs, Fairfield County is home to some very high-rent districts. Since 2008, CoStar reports average NNN asking rents in Greenwich have stayed above $50 per square foot, most recently near $70 per square foot. (These figures represent averages for Greenwich. Prime locations on Greenwich Avenue are higher, with current asking rents of $90 – $135 per square foot.) Variability in Greenwich's asking rents has been significant, however, with a $35 per square foot differential between high and low since 2006. The luxury goods retailers that pay higher rents in prime locations tend to bid up rents during up times and go lower during down times.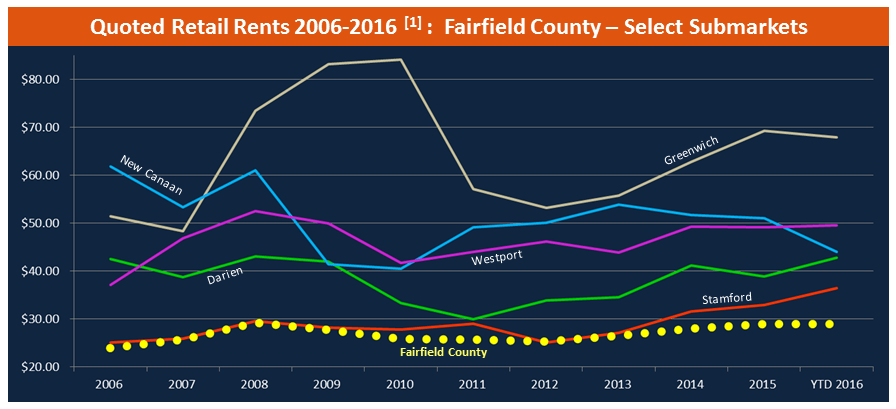 As evidenced in the above chart, four of the five submarkets shown are among Fairfield's high-rent districts. Stamford, while more closely following Fairfield County's average asking rent between 2006-2013, began to rise above its average in 2014 as the city benefitted from above-average population growth (compared to the County as a whole)[3] , numerous new residential developments, and significant investment by the city in marketing Stamford as a retail destination.
___________________________________________________________________________________________________________________
SOURCES:
[1]  CoStar Realty Information, Inc. – CoStar Property Analytics & CoStar 1Q2016 Faifield County Retail Market Report (www.costar.com)
[2]  International Council of Shopping Centers (ICSC) – U.S. Country Fact Sheet, March 2015
[3]  ESRI & U.S. Census Bureau
Upcoming Reports:  Westchester County Investment Sales Market