Our most recent review of the Fairfield County retail market, along with a submarket focus on Westport.
RETAIL MARKET REPORT  |  Fairfield County, CT

OVERVIEW  |  Steady on Course
Fairfield County's 48 million SF of retail space serves 954,000 residents, a ratio of 51 square feet per capita, comparable to the national average.
The below table outlines Fairfield County's retail submarkets along with average rental rates and availability (all available retail, including vacant space, as well as occupied space available for lease or sublease).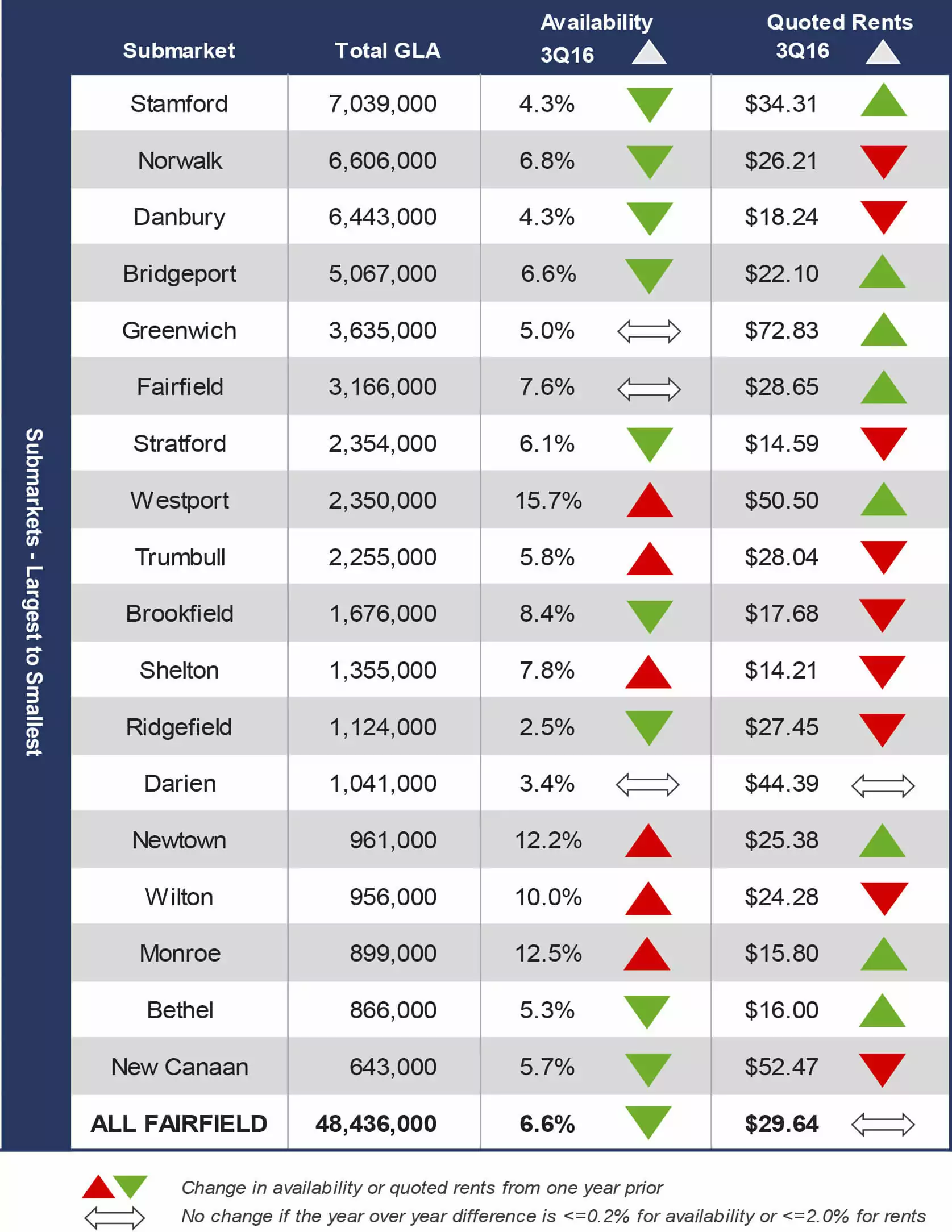 Sources: CoStar Group Inc. and Admiral Real Estate Research, 2016
Fairfield County's retail real estate inventory is comprised primarily of smaller-sized 'general retail' buildings. This would be expected in smaller submarkets like New Canaan, but is also true in a large market like Greenwich, where the majority of retail space is located not in shopping centers, but along main shopping thoroughfares like Greenwich and Putnam Avenues that house multiple smaller buildings.
RENTS  |  Regaining Ground
Hovering between $29 PSF – $30 PSF since 1Q2015, Fairfield County's asking rents have re-gained their 2008 peak after dropping to a low of $25 PSF in 2011-2012.
The County's median and average incomes ($86,000 and $135,000) are significantly higher than Connecticut and U.S. averages, buoyed by the particularly high income towns of Greenwich, Westport, Darien and New Canaan.  Unsurprisingly, these are the Fairfield towns that support average quoted retail rents exceeding $40 PSF, with rents in the best locations reaching up to $200 PSF.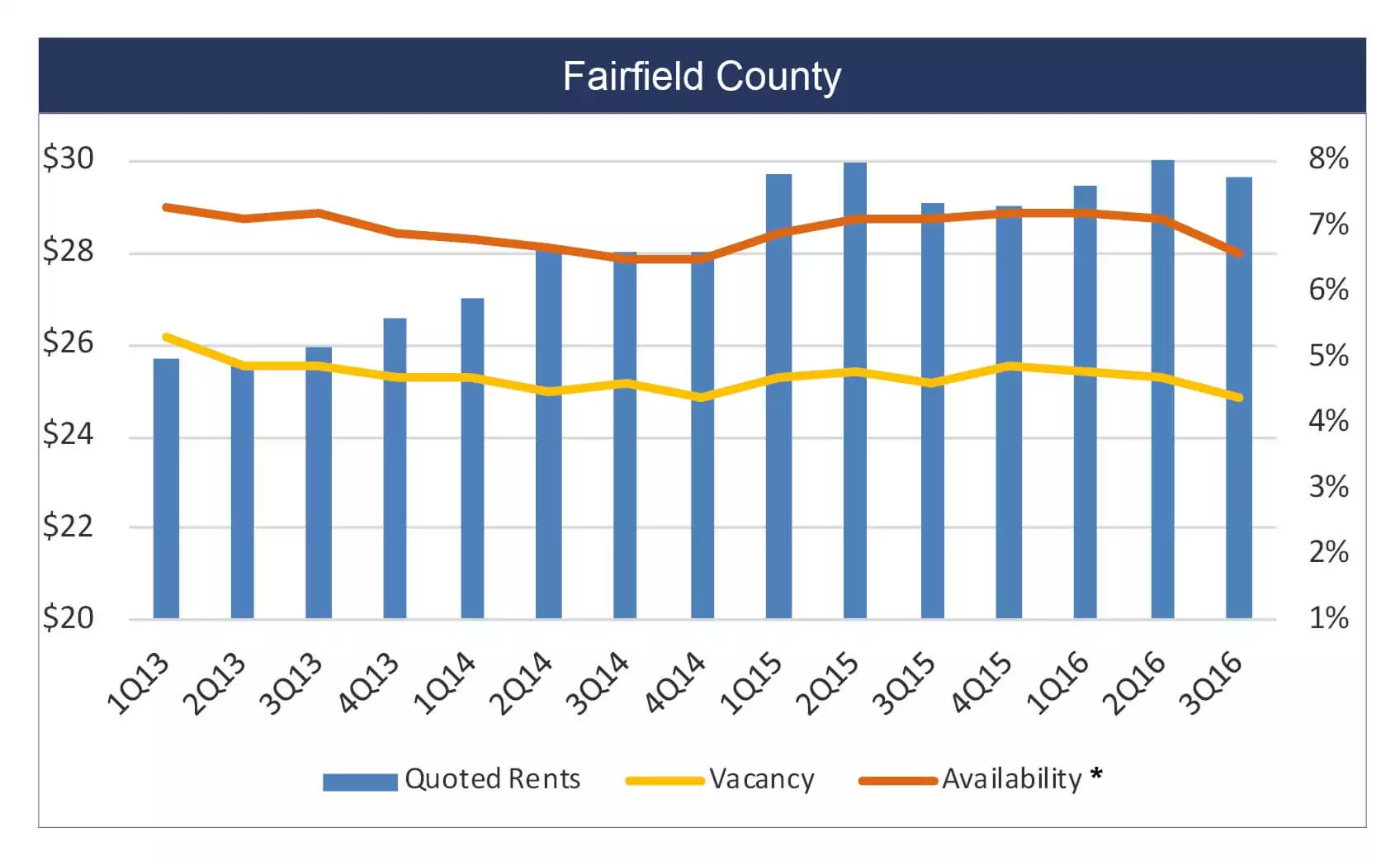 Sources: CoStar Group Inc. and Admiral Real Estate Research, 2016
*Availability includes vacant space and occupied space for lease or sublease
AVAILABILITY  |  7 % Since 2013
After peaking at 9% in 2009, Fairfield County's availability rate has held steady at 7% over the last four years. Individual submarkets show greater variability. The charts on the following page summarize vacancy, availability and average rents since 2013 for four select Fairfield County submarkets including Stamford, Greenwich, Darien and New Canaan.

SELECT SUBMARKETS  
SUBMARKET FOCUS  |  Westport, CT




OVERVIEW  |  A Gold Coast Shopping Destination
The coastal town of Westport is approximately 20 square miles, with a population of 27,768. Westport has remarkably high average household income of $239,166, over three times the U.S. average and more than double the average for the state of Connecticut.
Westport has a remarkably high average household income of $239,166,
over three times the U.S. average
A destination shopping area, Westport draws customers from a distance, as well as local residents.  Like Greenwich, Westport offers a mix of upscale local, regional and national retailers that are rarely found together in a Main Street type environment, attracting shoppers from up and down Connecticut's gold coast.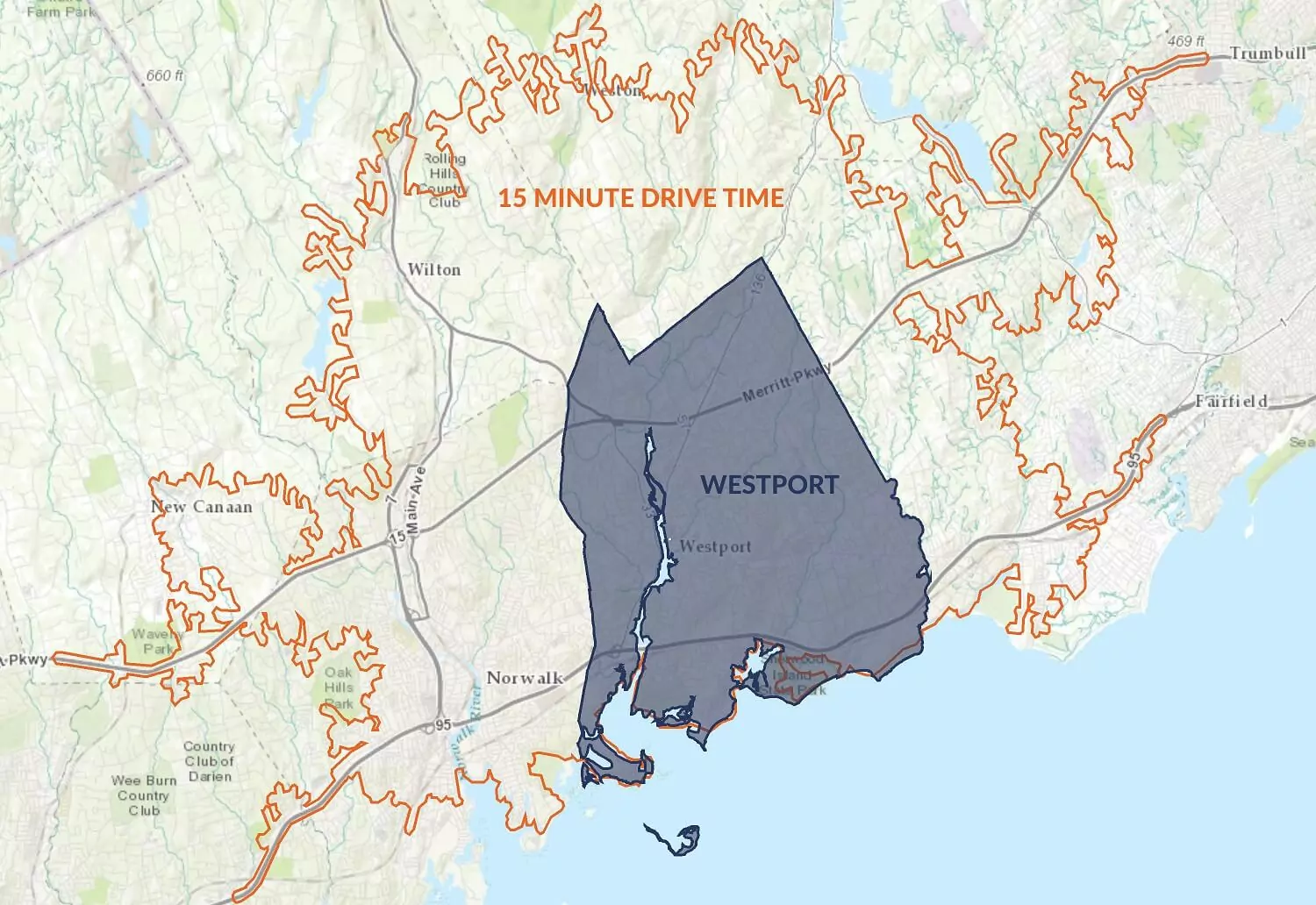 Image Source: Esri and Admiral Real Estate Research, 2016
Within a 15-minute drive time of the central business district, the population jumps to 140,226 with an average income of $162,695, resulting in buying power for in-store retail goods (excluding food and drink) of over $3.4 billion.
Westport contains about 2.4 million square feet of retail space, located primarily along Post Road and Main Street. The high ratio of 86 square feet of retail per capita (versus County and National averages of roughly 51 square feet per capita) is indicative of Westport's draw from outside the immediate community.
AVAILABILITY  |  Recent Additions
According to CoStar data, Westport's vacancy and availability rates averaged 7% and 10%, respectively, between 2011-2014. Although vacancy has stayed fairly steady since that time, availability began to increase in 2Q 2015: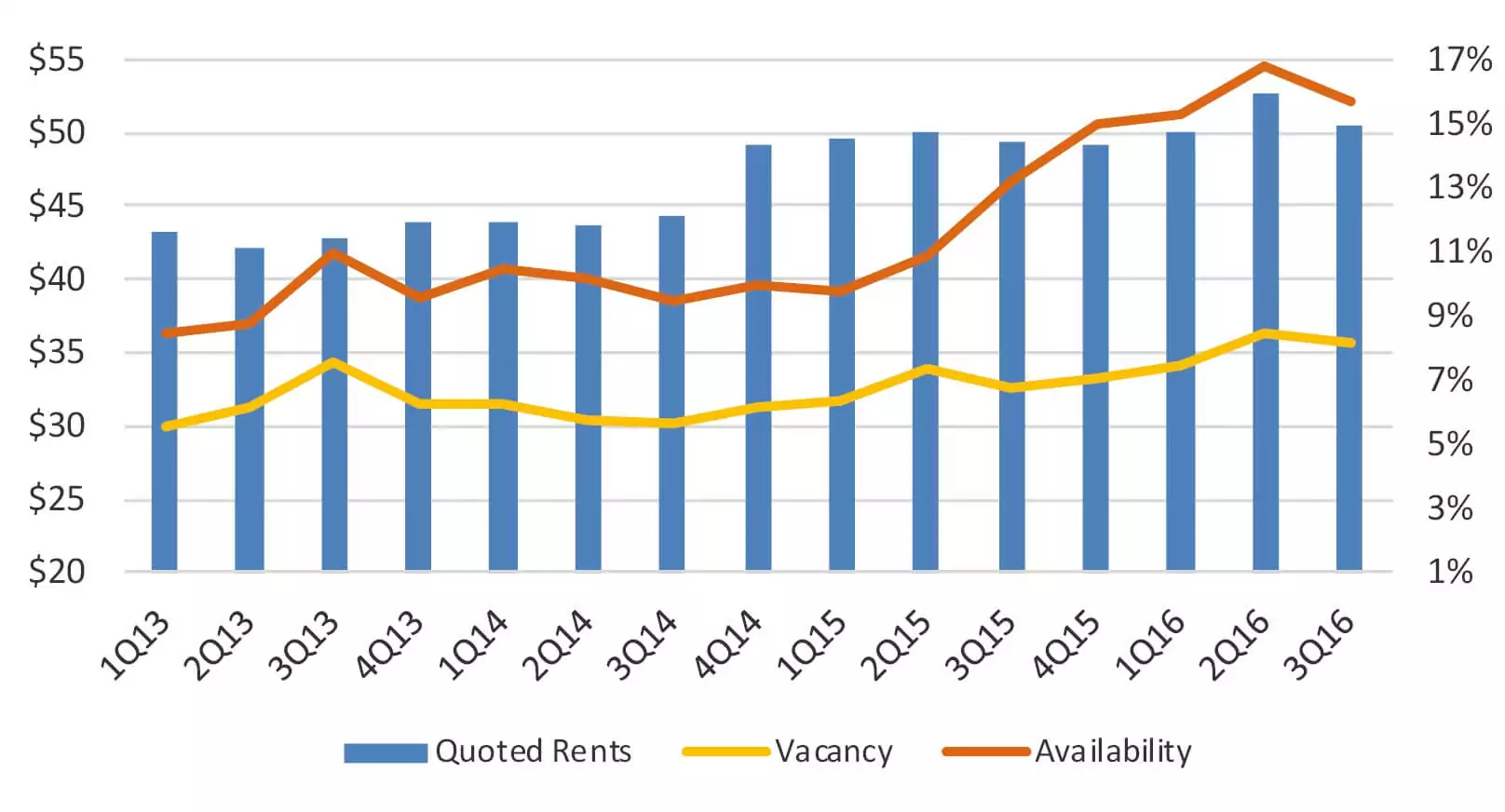 Sources: CoStar Group Inc. and Admiral Real Estate Research, 2016

The above chart is predicated upon data about particular spaces being added to the market at specific times. That data suggest that the recent increase in Westport availability is primarily the result of the new construction at Bedford Square (see page 8), along with four large spaces that were returned to market after existing tenants chose not to renew their leases: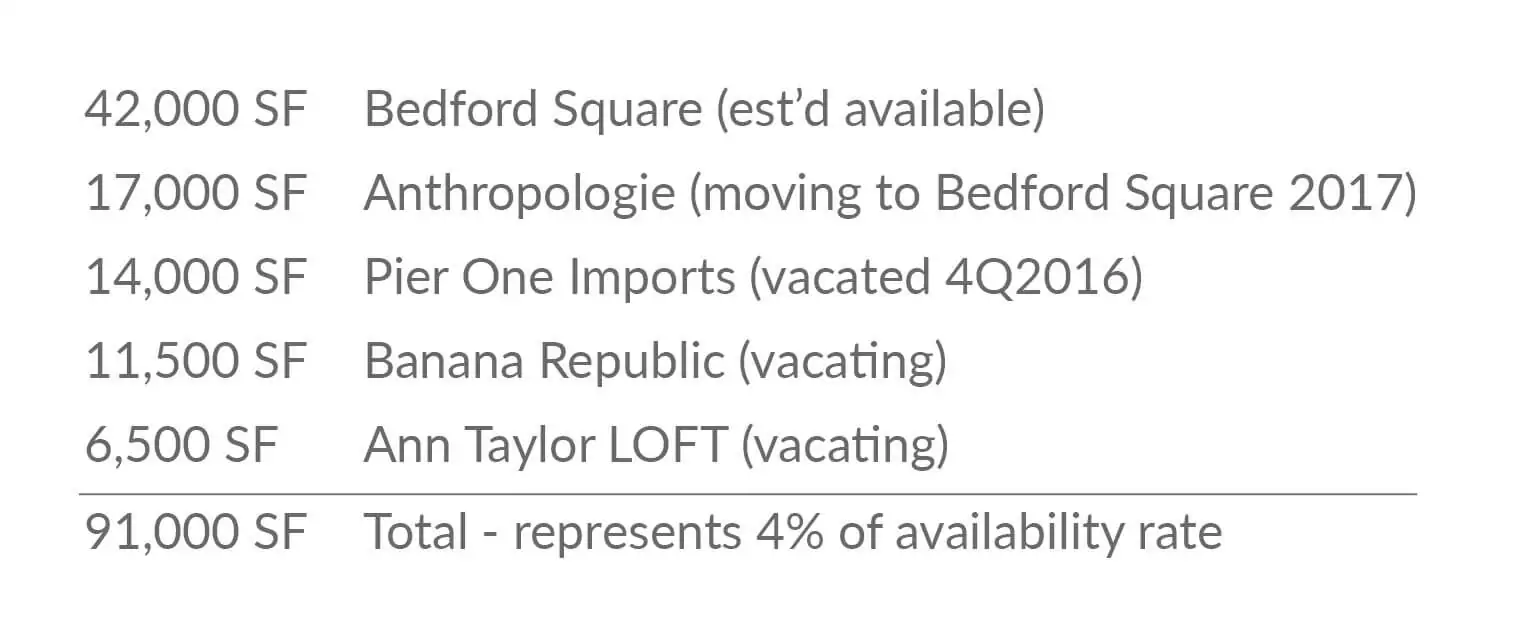 Thus, a short list of large spaces – which together account for 4% of the 15.7% availability rate – are responsible for the bulk of the increase in availability since 2Q 2015.  These spaces were included in availability and not vacancy because although 'on the market' and available for lease, they had not yet been vacated (or construction was not yet completed) as of 3Q2016.
It is important to note that Westport's overall availability rate is somewhat inflated due to the inclusion of office or quasi-office space with the above retail figures.  We estimate that roughly ¼ of the space included in the data set as available retail would be more accurately classified as office space.
RENTS  |  Steady at $50 PSF
A high-rent district with upscale but not as many luxury retailers, Westport did not see as wide a range between the highs and lows of asking rents as Greenwich experienced during the past 10 years.
As evidenced in the chart above, average quoted rents in Westport have remained fairly steady at $50 PSF for the past two years, closing in on Westport's peak of $52 PSF seen in 2008/2009.
Asking rents in the prime areas of Post Road and Main Street currently range from $80 PSF – $135 PSF.
2016 SALES  |  Average Price $600 PSF

LEASING ACTIVITY  |  Renewals & New Leases

CONSTRUCTION  |  Bedford Square
The single significant retail project about to reach completion in Westport is Bedford Square, or BSQ.
BSQ is a mixed-use development, with 24 residential rental units, 72,000 SF of retail along Church Lane and Elm Street and 100 underground parking spaces. BSQ is a re-purposing of the former YMCA, Bedford Mansion and Westport firehouse and is expected to open in 2017.  Partially pre-leased to tenants such as Anthropologie, NNN asking rents for the remainder of the space are $55 PSF – $135 PSF.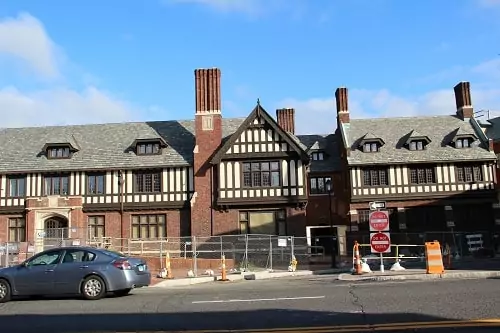 Bedford Square Development Site
OUTLOOK  |  Middle-Market Departures, Upscale Expansion
Westport's availability rate has risen as a consequence of the departure of certain middle-market tenants: Chico's, Pier 1 Imports, Banana Republic and Ann Taylor LOFT. However, many upscale fashion and home furnishings retailers, such as Free People, Design Within Reach and Anthropologie, are entering into or expanding their presence within the market.
Bedford Square's newly constructed retail space will need to be absorbed as it comes on line in 2017, but will bring with it 24 new lifestyle residences built in the center of town.  The development of BSQ further validates Westport's standing as a destination shopping area and an important retail location for a growing number of national and regional brands.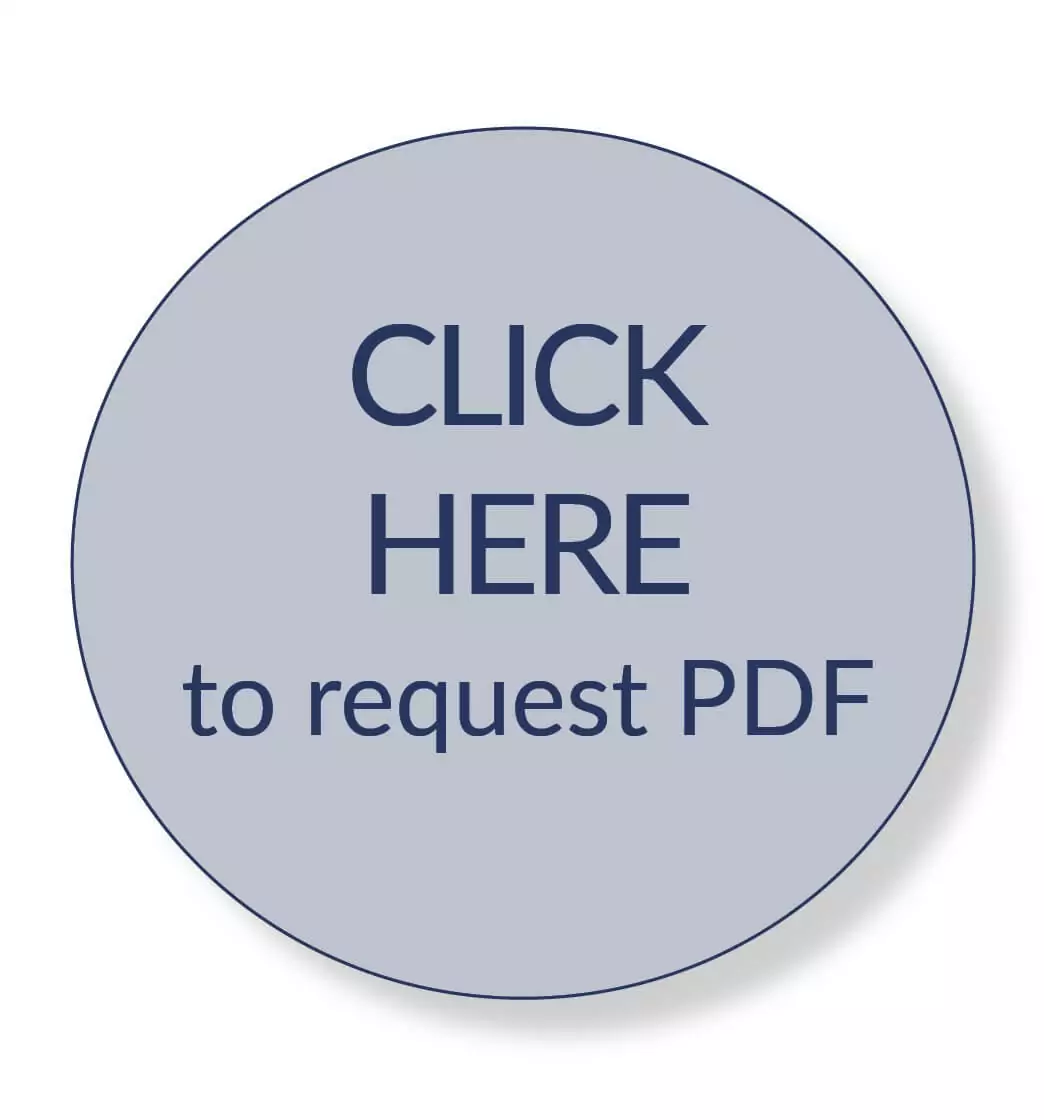 For more information, please contact Jonathan Gordon, CEO/Corporate Broker or call 914.779.8200 x115.
—————————————————————

All rights reserved. No part of this publication may be reproduced, distributed, or transmitted in any form or by any means without the prior written permission of Admiral Real Estate Services Corp.
—————————————————————
Admiral Real Estate Services Corp. is a commercial real estate brokerage firm, offering agency leasing, investment sales and tenant representation services. Based in Westchester, the company currently lists and/or manages over 100 retail, office and development properties in the New York metropolitan area.
—————————————————————
Tags: bedford square, shopping westport, westport commercial real estate, commercial real estate westport, fairfield county commercial real estate, commercial real estate market report, commercial real estate stamford, commercial real estate greenwich, greenwich retail, stamford retail,westport map, westport market, downtown westport shopping, westport town map
—————————————————————
The information contained within this report is gathered from sources considered to be reliable. The information may contain errors or omissions and is presented without any warranty or representations as to its accuracy.