Our most recent review of the Westchester County retail market, along with a submarket focus on White Plains CBD.
RETAIL MARKET REPORT  |  Westchester County, NY

OVERVIEW  |  Historical Stability
Two of the strengths of Westchester County's retail real estate market is its population's impressive buying power and the relative supply and demand balance of its inventory of retail properties.
Restricted Supply + Consistent Demand 
Westchester's proximity to New York City, affluent population, limited land availability, high construction costs and often complicated entitlement processes help keep inventory and vacancy levels within a fairly narrow range, even during periods of economic volatility.
Over the last 10 year period, which includes the highs and lows of the retail market before and after the Great Recession, overall vacancy in Westchester County varied by only about 2%. As can be seen in the chart below, Westchester's availability rate – which includes vacant space as well as occupied space available for lease – has declined from 8.8% at the beginning of 2013 to 7.2% today. Similarly, 3Q2016 marks the first time that vacancy dropped below 5% since 2011.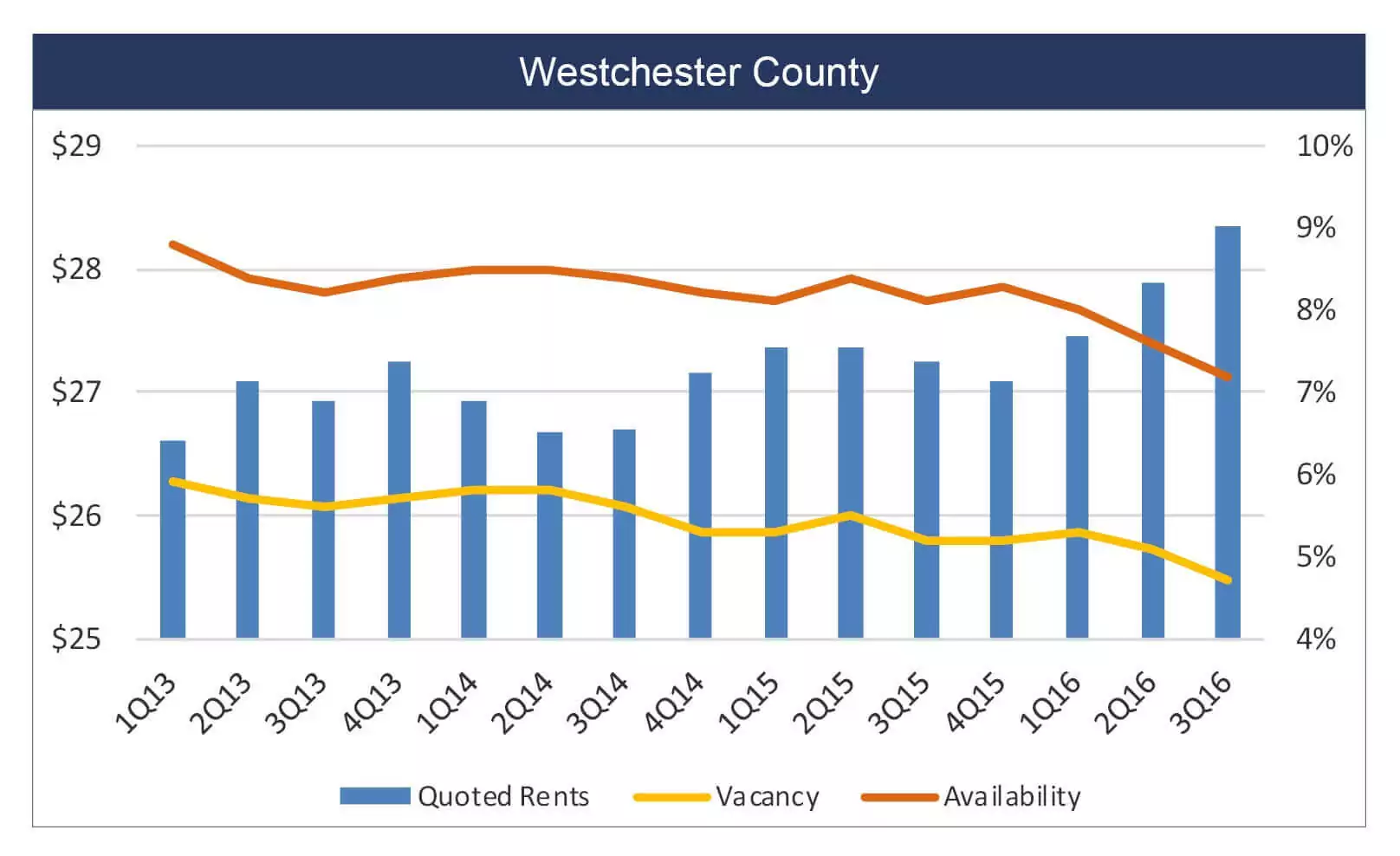 Sources: CoStar Group Inc. and Admiral Real Estate Research, 2016
Quoted rents have also shown improvement.  After hovering in the $26 PSF / $27 PSF range since 2012, average quoted rents moved above $28 PSF in 3Q 2016 for the first time in eight years.
Retail spending – and by extension, retail rents – in Westchester County are buoyed by high average household and disposable incomes.
Westchester's average household income in 2016 was estimated at $135,000,
8% higher than Manhattan's and 54% more than New York State's.

RENTS & AVAILABILITY  |  Improvements Across the Board
Westchester County has an estimated 50 million square feet of total retail space for its 978,000 residents, a ratio of 51 square feet per capita, in keeping with the U.S. average.  However, compared to the U.S. as a whole, a greater percentage of Westchester stores are located in smaller shopping centers or along Main Street type retail areas.
Because of its complicated municipal structure, Westchester County is not easily divided by town.  As a result, the table below presents an overview of Westchester's eight retail submarkets as defined by CoStar, an independent research firm.
Availability and quoted rents for 3Q 2016 are shown for each submarket.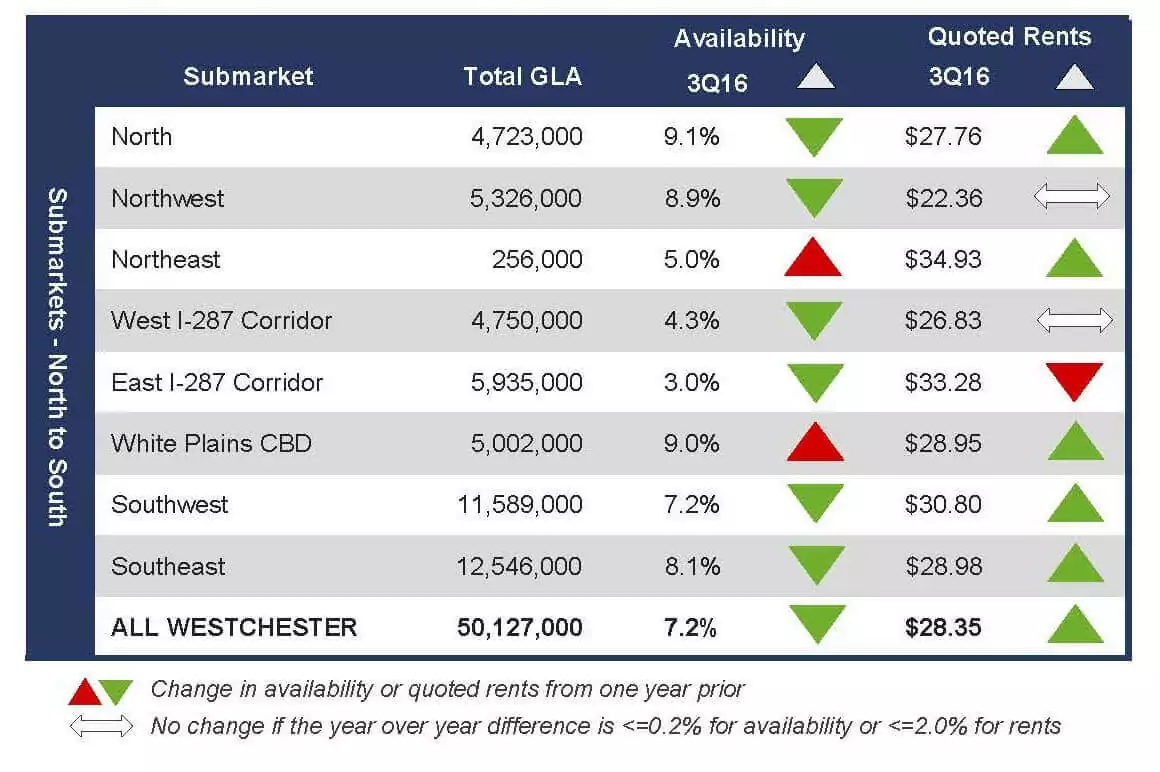 Sources: CoStar Group Inc. and Admiral Real Estate Research, 2016
All of Westchester's submarkets showed improvement in either rents or availability, and three showed improvement across the board.  The biggest year-over-year jumps in rents were seen in the Southwest (Yonkers, Dobbs Ferry, Hastings on Hudson, parts of Hartsdale & Scarsdale along Central Avenue) and White Plains CBD submarkets, each at just under 9%.
Although availability increased 1.6% from 3Q 2015 in the small Northeast submarket (primarily Armonk) and 0.5% in the White Plains CBD, vacancy and availability declined or remained steady in all the remaining submarkets.
The following charts show further detail for vacancy, availability and rents for the Southeast, Southwest, East I-287 Corridor and West I-287 Corridor submarkets.
SELECT SUBMARKETS





 Sources: CoStar Group Inc. and Admiral Real Estate Research, 2016
SUBMARKET FOCUS  |  White Plains CBD
OVERVIEW  |  CBD Boundaries + Primary Retail Cooridors
The White Plains CBD retail submarket is a subsection of the city of White Plains.  The CBD submarket is bordered by the Bronx River Parkway to the west, Bloomingdale Road to the east, I-287 to the north and Soundview and Bryant Avenues to the south.
With 5 million SF of retail space, the White Plains CBD is unique in southern Westchester
in that over half of its retail is located within several shopping malls 250,000 SF and larger.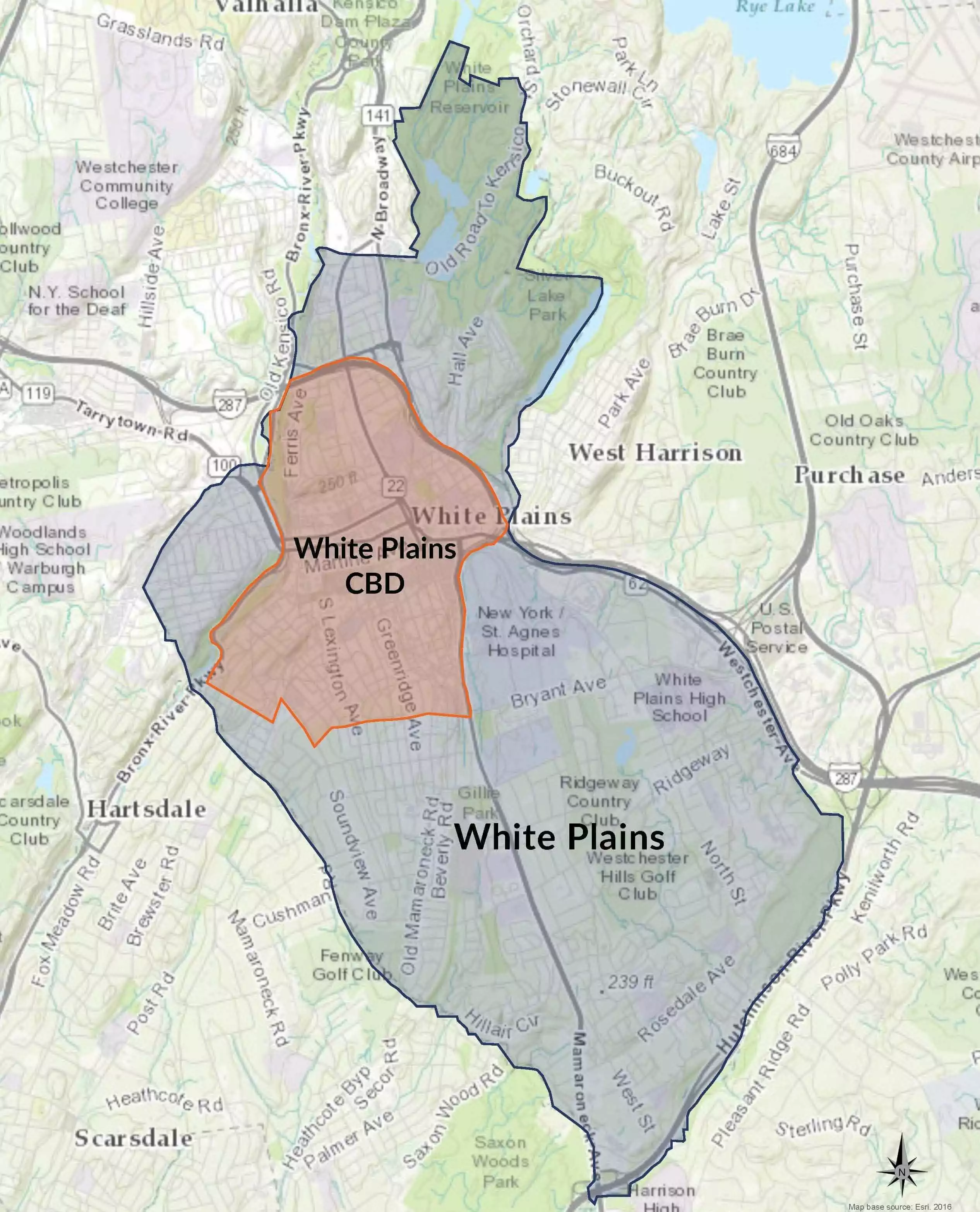 Image Source: Esri and Admiral Real Estate Research, 2016
The CBD contains three major retail arteries.  The larger malls are located primarily along the Main Street / Westchester Avenue / Bloomingdale Road corridor, while the majority of street retail is found on Mamaroneck Avenue and Post Road.
RETAIL DRAW  |  Residents + Nearby Population + CBD Employees

At 168 SF of retail space per resident, the White Plains CBD clearly draws shoppers from beyond its borders.
As a result, White Plain CBD's residential population of 30,000 is responsible for only a portion of its retail sales. A large part comes from visitors and shoppers living outside the CBD, attracted by White Plains' businesses, accessibility and extensive retail offerings. And as a long-established business center containing over 8 million square feet of office space, a significant percentage of sales results from employees of and visitors to the firms and government entities that have offices there.
A 2015 retail market study commissioned by the White Plains Business Improvement District (BID) estimated that retail sales in an area analogous to the CBD are divided roughly equally between four groups: ¼ from residents living within the CBD (primary market area), ¼ from people living within a 5-mile radius (secondary market area), ¼ from those living within a 25-minute drive (tertiary trade area) and ¼ from workers employed within the CBD.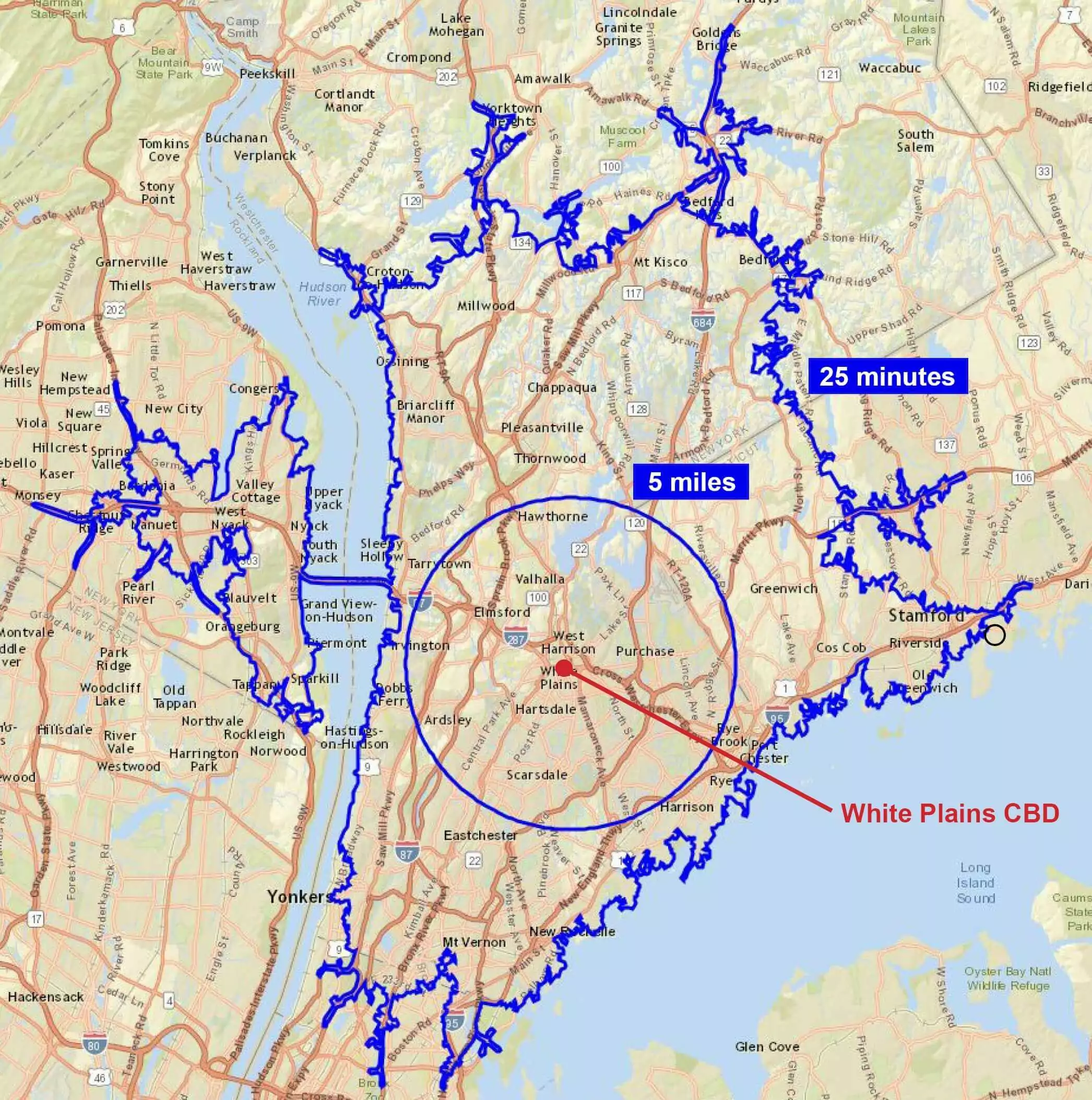 Image Source: Esri and Admiral Real Estate Research, 2016
The $1.4 billion in retail trade spending in the CBD is distributed differently between these groups.  While residents may compose 25% of total expenditures, they comprise a greater percentage of sales of everyday items like food and beverage and health and personal care products.  Daytime workers spend a greater percentage on items such as food services.  Visitors are likely to spend a higher percentage of their dollars on occasional purchases like clothing, accessories and general merchandise.
ACCESSIBILITY  |  Parking + Transit
One of the features of White Plains that allows it to draw visitors from a wide area is its central location within lower Westchester and its accessibility by numerous highways and public transport.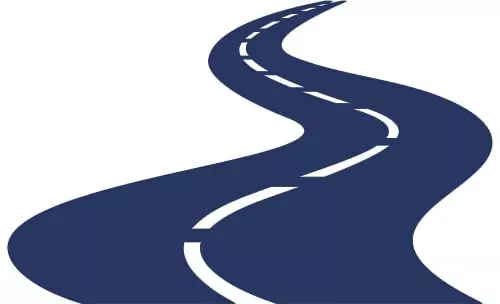 Highway Access. White Plains is accessible by major parkways and interstates, including I-87, I-287, Bronx River Parkway, Sprain Brook Parkway and the Hutchinson River Parkway, which becomes I-95.

Metro-North Railroad. Metro-North's White Plains station is located on the central western border of the CBD, about ½ to 1½ miles from the major malls and shopping arteries. The station is one of the busiest on the Metro-North system and serves as a transfer point between trains serving upper and lower Westchester.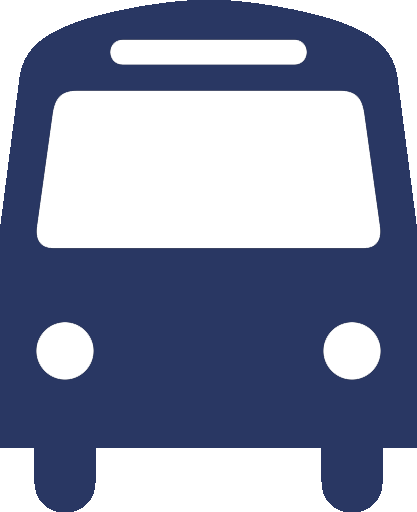 Bee-Line Bus. Adjacent to the Metro-North station is the bus terminal, which is the hub for the County-owned Bee-Line bus system. The Bee-Line serves over 30 million passengers annually throughout Westchester County. The station is also used by regional commuter bus lines like Greyhound, offering service to Stamford, CT to the east and Rockland County, NY on the west side of the Hudson.

Transit District Redevelopment. The city is currently conducting a study for the redevelopment of the transit district, with the goal of creating green space and improving pedestrian access to nearby retail. The potential redevelopment includes four city-owned parcels along the railroad line, as well as improvement plans for the train station, bus terminal and surrounding area. Although different proposals have been presented, all feature an outdoor pedestrian green space and a retail component.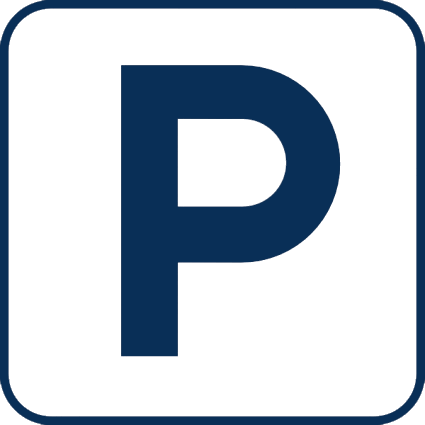 Parking. To accommodate all the vehicular traffic (43,863 VPD along Main Street alone) there are over 13,000 municipal parking spaces available in the district. All the major shopping centers have multi-level parking garages in addition to many stand-alone municipal lots and parking garages sprinkled throughout downtown.
RESIDENTIAL DEVELOPMENT  |  Burgeoning 18-Hour City
The city is experiencing a residential transformation.  Approximately 2,500 multifamily units have been built in the CBD since 2000, increasing total housing inventory to today's roughly 15,000 units.  Among the larger developments to come on line since 2000 are 300 Mamaroneck Avenue / Jefferson Place, City Center's Trump Tower condominiums & One City Place apartments, 15 Bank Apartments, Ritz-Carlton Residences and the Avalon White Plains.
Another 2,000+ new residential units are currently at various stages of planning or development in the CBD, including:
55 Bank Street – 561 units at (Phase I is under construction)
The District – 700 units as part of a mixed-use redevelopment of the Westchester Pavilion shopping center
(approved, delivery expected in 2019)
The Esplanade – 212 units as part of a conversion of senior living space into rental apartments (approved)
Good Counsel Campus – 400 units in a new development (planning stage)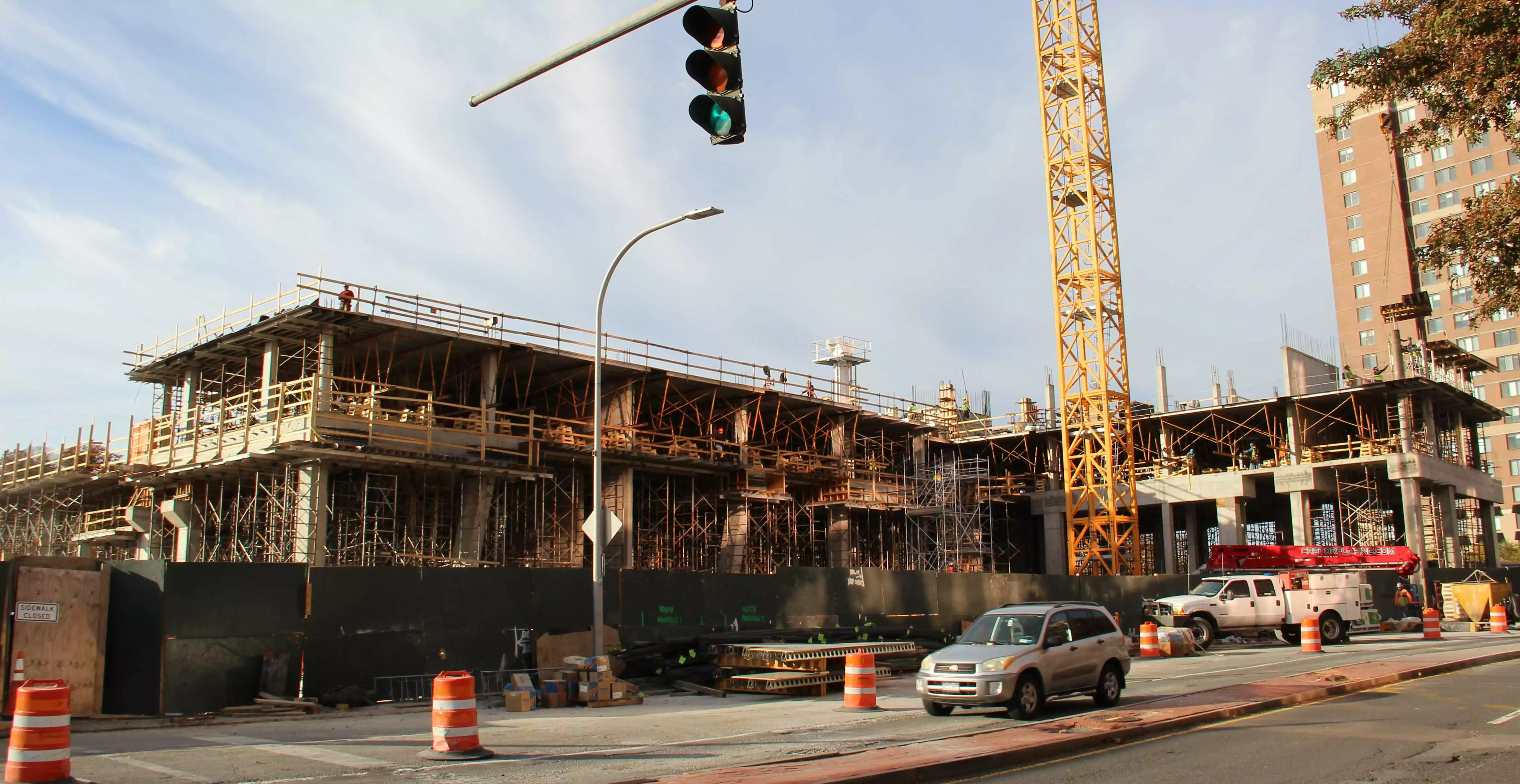 55 Bank Street development site
A burgeoning 18-hour city with many restaurants and a vibrant nightlife scene, White Plains is building on its foundation as an established business and shopping center to attract additional residents, shoppers and businesses.
LOCAL BUSINESS  |  Daytime Population + Employment
There are 47,100 employees working in 3,600 businesses in the CBD. By various estimates, workers and visitors to those businesses bring in 150,000-225,000 people every 24 hours to White Plains.
There are several types of businesses that have a greater concentration in White Plains compared to New York State as a whole: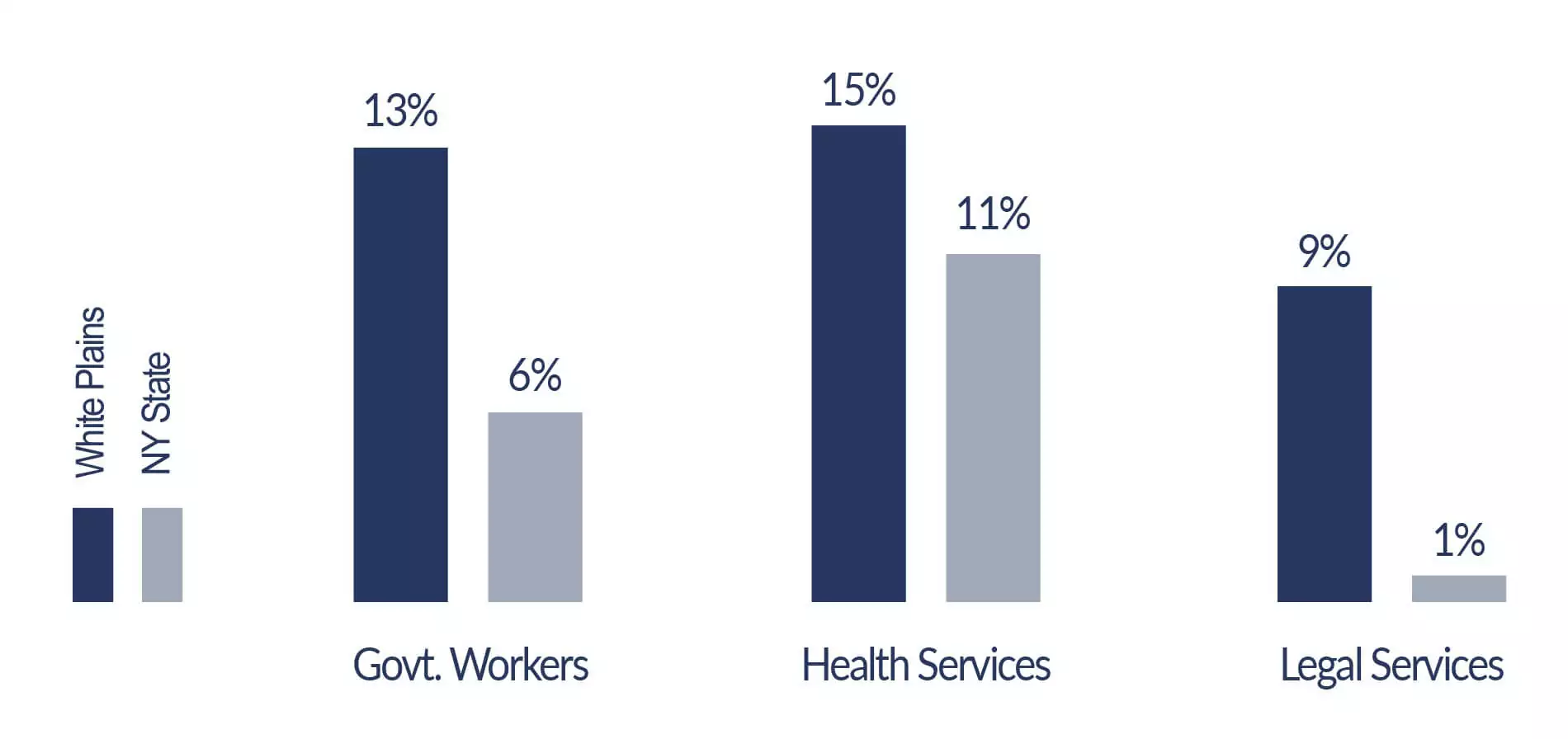 Source: Infogroup, Inc. and Admiral Real Estate Research, 2016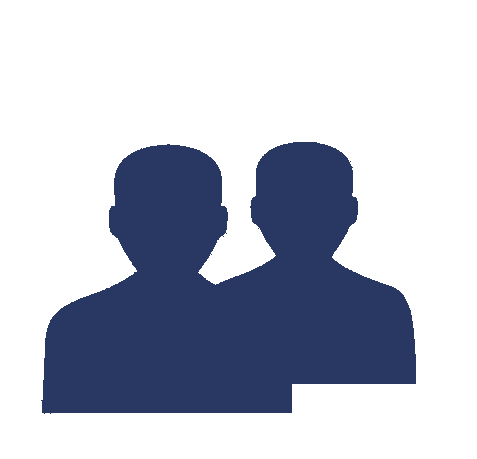 Government workers. White Plains is the Westchester County seat, containing county, state and federal offices such as the Westchester County Planning Department, New York State Department of Labor and various courts.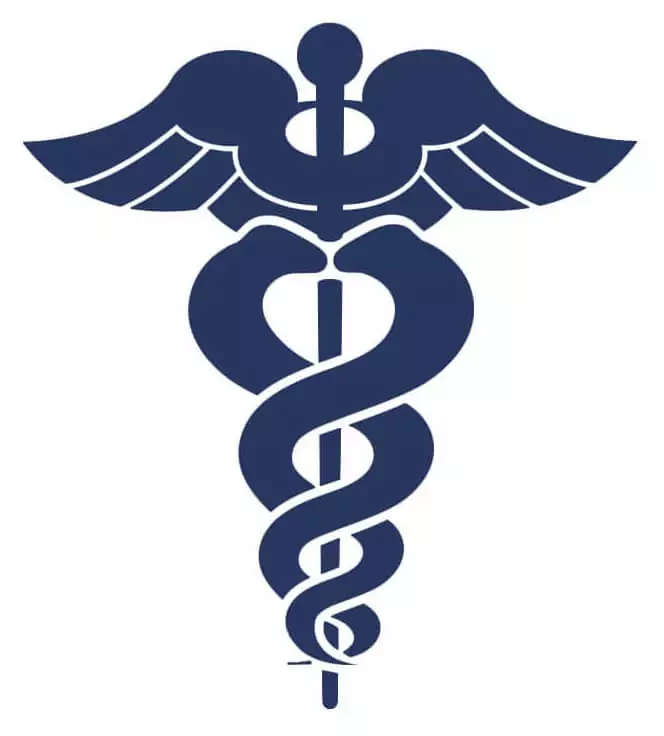 Health services. Hospitals in White Plains include White Plains Hospital Center, The Burke Rehabilitation Hospital and New York-Presbyterian Hospital/Westchester Division.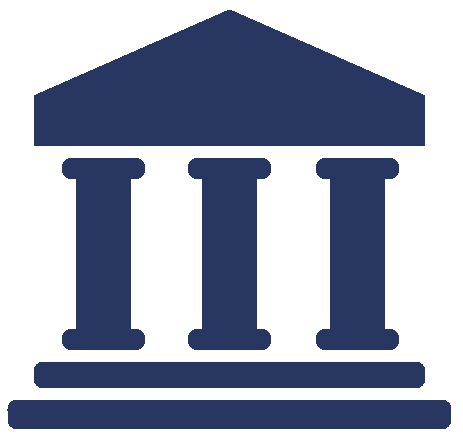 Legal services. White Plains houses city, county, state and federal courts and is home to over 400 legal service businesses.

Although the CBD's total retail employment is similar to that of New York State,
the CBD has higher concentrations in apparel and accessories and general merchandise due to its large malls.
Among the large corporations headquartered in White Plains are Heineken USA, New York Power Authority, ITT Corp. and Starwood Hotels & Resorts Worldwide.

From Left: Heineken USA at 360 Hamilton Ave. & NY Power Authority offices at 123 Main St.
RETAIL INVENTORY  |  Largest Shopping Centers
There are five major shopping centers in White Plains that encompass more than half of the total retail in the CBD:
The Westchester Mall and Galleria at White Plains are super-regional malls that book end the CBD.
City Center is part of a mixed-use development located below Trump Towers and includes a 15-screen Cinema De Lux movie theater and the White Plains Performing Arts Center.
The Source at White Plains and Shoppes on Main are both urban-style power centers.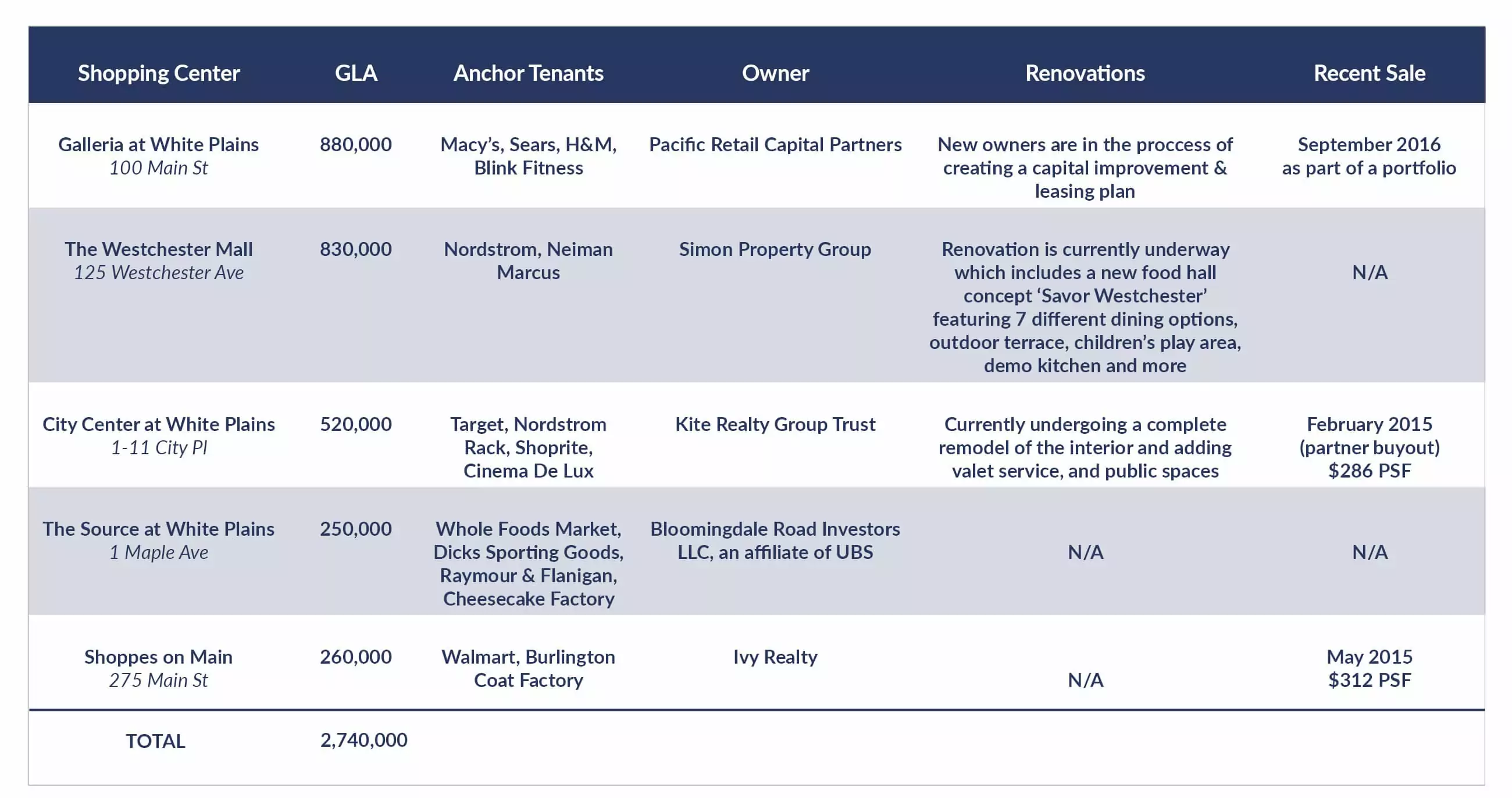 Three of the five largest centers – Galleria, Shoppes on Main and City Center – have been sold within the past two years. Three of the five are also undergoing major renovations: Galleria, City Center and The Westchester Mall, which expects to complete its new food hall, with a play area, media center and outdoor dining terrace, by April 2017. City Center is having its post-renovation opening event this evening.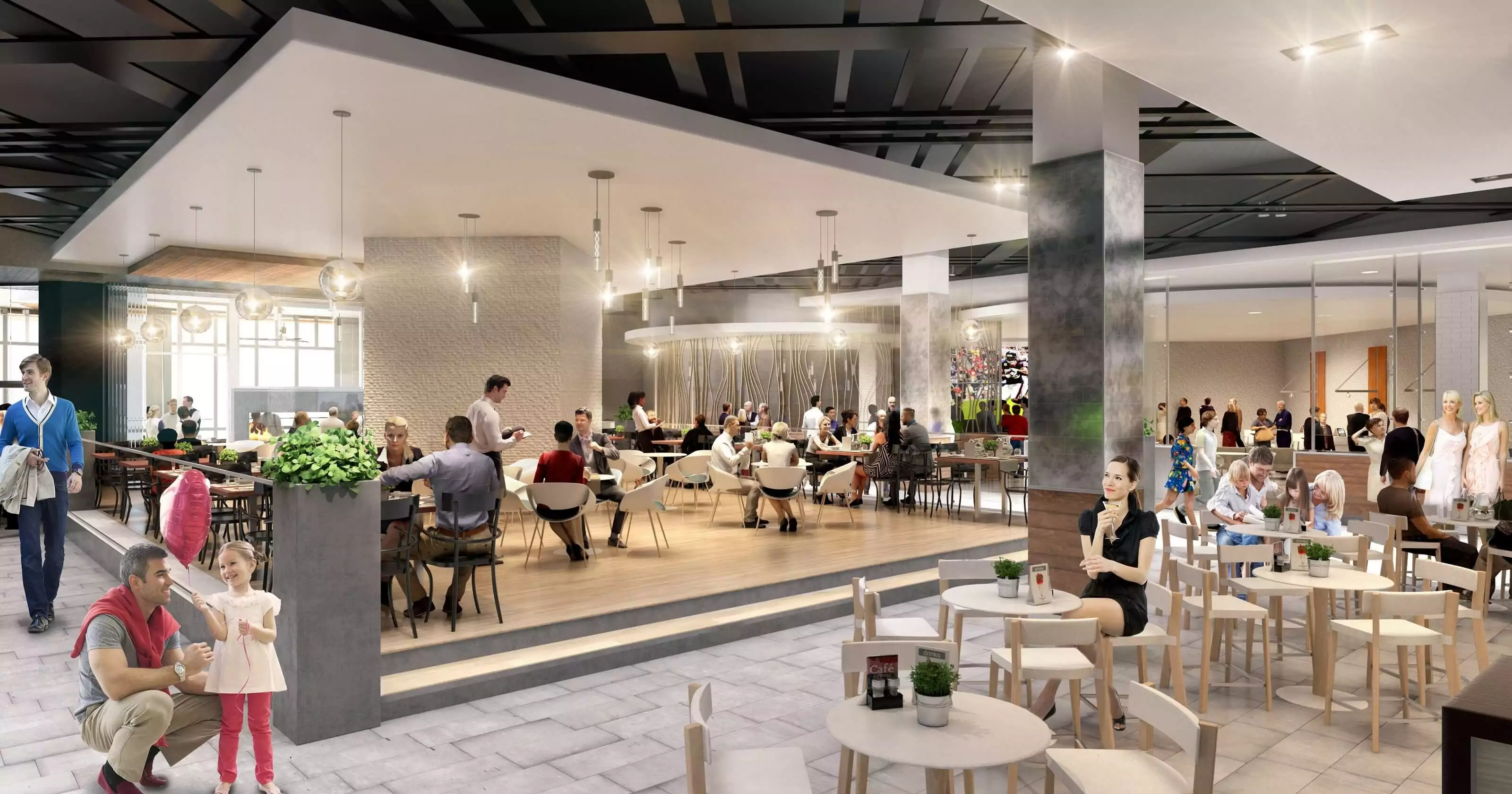 Savor Westchester rendering Image Source: Simon Property Group
The range of rents in White Plains is as wide as the gamut of retail space. Asking rents in non-mall spaces range from about $15 PSF to $50 PSF, with average asking rents closer to $29 PSF. Mall spaces range from the $20's PSF for large spaces to low $100's PSF for small spaces in the higher-end Westchester Mall. Developers expect a similarly wide range of asking rents in some of the prospective new developments listed below, also depending on the size and type of space.
NEW RETAIL DEVELOPMENTS  |  Mixed-Use Projects
Although there are no retail projects currently under construction, there are a number of proposed projects, most of which have a residential component:
The District at Westchester. (60 South Broadway)  Lennar is preparing to redevelop the Westchester Pavilion into a mixed-use project with 700 rental apartments called Sixty South and approximately 100,000 SF of retail.  Construction is expected to start in 2017, with projected delivery in 2019.
The Heritage White Plains.

(120 Bloomingdale Road)  Across the street from Bloomingdale's department store, Caspi Development's $30 million renovation of the 145,000 SF former Nestle headquarters is complete and the office space is fully occupied.  Caspi plans to commence construction of a 50,000 SF retail center on the site once pre-leasing has surpassed certain levels.
The Collection.

(80 Westchester Ave)  Saber Real Estate Advisors & Chauncey Station Partners plan to develop the former Key Ford site located adjacent to the Westchester Mall.  Still in the planning stage, the project is expected to be mixed-use with both a residential and retail component, but square footage allocations are as yet undecided.
Boulevard.

(77 West Post Road)  Grid Properties is planning a 230,000 SF retail development consisting of 12 townhouses, a 720-car garage, small and medium-sized shops, restaurants and a combination of fitness uses.
 White Plains Mall- Potential Redevelopment.

(200 Hamilton Ave) The first mall built in White Plains in the 1970's is still operating and is home to the Department of Motor Vehicles, among other tenants. It is anticipated that the mall will be redeveloped at some point in the future. Preliminary plans include a 20-plus story residential tower, townhouse-style apartments, stores, parking garage and publicly accessible green space.

From left: Westchester Pavilion, White Plains Mall & Westchester Avenue 
OUTLOOK  |  Retail in Transition
Both types of retail in the White Plains CBD – major malls and street retail – are in the process of transition.
Destinations in and of themselves, the major malls benefit from White Plains' vehicular accessibility and attached parking garages. However, the malls are now aging, having been built as early as 1980 (Galleria) and 1995 (The Westchester). As a result, we're seeing three of the five major malls undergoing significant renovations, some with new leasing plans.
While mall visits are typically made by car, street retail depends significantly on pedestrian traffic coming from nearby office and residential buildings. Long retail corridors, streets that are not always pedestrian-friendly and limited curbside parking continue to be challenges for street retail. But recent multifamily development, along with efforts towards improving pedestrian and bike accessibility downtown, should help, and may increase crossover shopping between the retail corridors.
White Plains is recasting itself as a city for 'urban living', which provides symbiotic benefits for residents, visitors and businesses. The CBD's established business and shopping districts, along with varied restaurant and entertainment options, are requisites for the urban lifestyle, which has in turn fostered the city's multifamily developments.
This evolution would not be possible without the support of the City of White Plains, by working actively with developers and encouraging varied retail uses. Continuing to bring 18-hour activity to White Plains' downtown will attract more residents, businesses and visitors to shop in both street and mall retail in the CBD.
For more information, please contact Jonathan Gordon, CEO/Corporate Broker or call 914.779.8200 x115.
—————————————————————

All rights reserved. No part of this publication may be reproduced, distributed, or transmitted in any form or by any means without the prior written permission of Admiral Real Estate Services Corp.
—————————————————————
Admiral Real Estate Services Corp. is a commercial real estate brokerage firm, offering agency leasing, investment sales and tenant representation services. Based in Westchester, the company currently lists and/or manages over 100 retail, office and development properties in the New York metropolitan area.
—————————————————————
Tags: westchester commercial real estate, westchester pavilion redevelopment, westchester retail, westchester retail space, white plains commercial real estate, white plains retail
—————————————————————
The information contained within this report is from sources considered to be reliable, but may contain errors or omissions. No representations or warranties, express or implied, are made as to the accuracy thereof.