White Plains Road – Bronx Retail
Jonathan Gordon, CEO of Admiral Real Estate, recently leased two Bronx retail spaces on White Plains Road. The two stores expect to open in the fourth quarter 2018. The first, Fabrics & Linens, is a well-established fabric and textiles retailer.  Fabrics & Linens is relocating from 214th Street to 4004 White Plains Road (at 226th Street). The second store, Aroma, is an aromatherapy and holistic store opening at 3848 White Plains Road.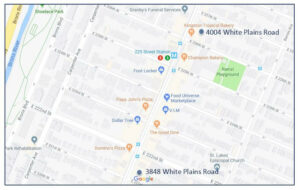 The sites, located on White Plains Road and East 221st Street and East 226th Street, are near the #2 train and have great visibility. The in-fill area has high pedestrian traffic and great purchasing power.
Area retailers include Domino's Pizza, Foot Locker, The Good Dine, Dollar Tree, V.I.M., Kingston Tropical Bakery, Papa John's Pizza, Champion Bakery and Food Universe Marketplace.
.For more information, please contact Jonathan Gordon, President/CEO or call (914) 779-8200 x115
.
Admiral Real Estate Services Corp. is a commercial real estate brokerage firm offering agency leasing, site selection and investment sales services. Admiral currently lists and/or manages over 100 retail, office and development properties in the New York metropolitan area, specializing in Westchester County, Fairfield County and Bronx County.