Living in "interesting times", as the adage goes, is rarely a blessing. It is, however, an apt proverb for the retail industry today, and its effects on the retail landscape.   .
 .

.
Despite 2017's record breaking year-end holidays sales, the U.S. retail sector's shakeout is expected to continue this year. However, this reshuffling has had divergent effects on different types of retailers and retail centers.
On the negative side, declining sales at traditional mall anchor stores have hurt mall traffic. Similarly, online grocery sales and competition from big-box retailers is affecting grocery-anchored neighborhood centers. But other types of retail centers – such as lifestyle centers, transit-oriented developments, and some suburban Main Streets – have benefited.
Increasingly, shoppers want a curated retail experience, and they are eager to support local businesses.
"They see the benefit of [local] sales. They see the Little League and Girl Scout sponsorships," Jon Gordon, President and CEO of Admiral Real Estate Services said.
For their part, millennials – that once feared demographic that would usher in the brick-and-mortar retail sector's demise – are aiding these trends. They are embracing the experience economy and the ideals behind 'Shop Local' campaigns.
Like baby boomers, millennials also crave the innate sense of interconnectedness that Main Street type settings can offer.


"Interesting times" indeed 
Retail sales during 2017's year-end holidays were stronger than they have been in a decade. According to the National Retail Federation, holiday retail sales in 2017 rose 5.5%, reaching US$691.9bn.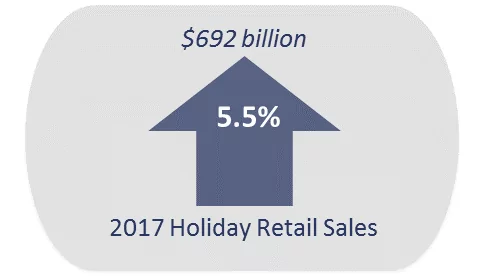 Source:  National Retail Federation and Admiral Real Estate Research

."We knew going in that retailers were going to have a good holiday season, but the results are even better than anything we could have hoped for," NRF President and CEO Matthew Shay said.
Strong retail sales are correlated with robust retail leasing activity because strong retail sales imply healthy consumer confidence.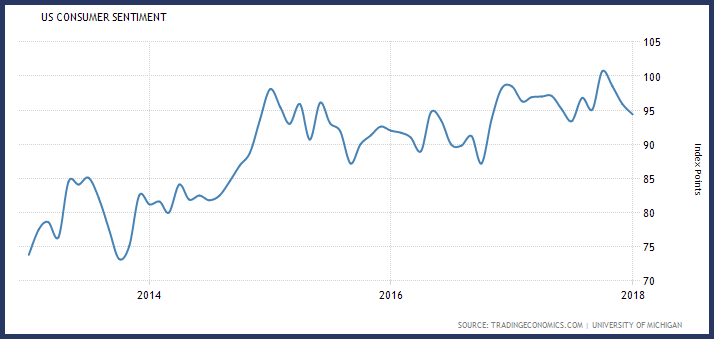 Source:  Tradingeconomics.com and University of Michigan
But there is more to the story. As attendees at the ICSC's New York Deal Making conference in December can attest, the mood among retailers is tentative. A sense of uncertainty pervades the industry; the US is over-malled and consistent growth in online sales is fueling concern.
US holiday online sales hit a record US$108.2bn, up 14.7% year-over-year, according to an Adobe Analytics report.  Interestingly, the report also indicates that revenue from mobile devices totaled US$35.9bn, just under 1/3 of all online sales during the 2017 holiday season.
The way consumers spend in-store has also changed, with increased focus on food, health and experiences.
Rather tellingly, many of the retailers at the ICSC Deal Making conference that were looking to expand were those that addressed these needs: primarily fast-casual restaurants, fitness and entertainment-oriented retailers – essentially, the types of retailers that are looking to expand into lifestyle centers, transit-oriented developments and Main Street type settings.  These also happen to be the types of retail uses that require a bricks-and-mortar presence, and that are less vulnerable to competition from on-line sales. .
 .
Retail landscape 2.0 – the open road  
Main Street retail is in a position to benefit from these changes in consumer tastes.  However, at street level, the challenges facing suburban shopping districts today involve parking, zoning laws and the sheer willingness to change.
The traffic and parking issues that led municipalities to direct shoppers away from suburban Main Streets decades ago is poised to come full circle with the advent of driverless cars, which can be parked far from a user's intended destination, and with the continued growth of car sharing services, like Uber and Lyft. Among millennials, in particular, car sharing services are accepted as a convenient and cost-effective transportation alternative.
For decades, suburban central business districts considered leasing retail space to service-oriented retailers a logistical problem because the clientele would linger a while, leading to – or worsening – the local parking and traffic situation.
Today, however, online competition and changing consumer habits mean that bringing clientele to Main Street and getting them to stick around is the name of the game. The logic is that a devotee of an indoor cycling center who visits Main Street might also grab a coffee or stop at other clothing, shoe or gift shops while there.
A different mindset   
Whether suburban Main Streets – those original, compact mixed-use developments – are able to capitalize on the transformation that the US retail industry is experiencing will hinge on cooperation.
Online competition is here to stay, and retail experiences will be affected by online competition for the foreseeable future. The fact that online retailers, like Amazon, are entering the brick-and-mortar world underscores this point.
From a retail leasing perspective, relying on old formulas for success is poor strategy, as evidenced by the trouble currently facing traditional mall anchors like Macy's and JCPenney.
Going forward, suburban Main Street communities – government officials, landlords, local businesses and residents – will need to be more proactive and nimble. They will have to start seeing their Main Street and its nearby public spaces as places where they can host events and showcase the area's history, architecture and cultural offerings.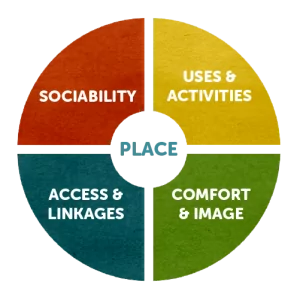 Source:  Project for Public Spaces
For their part, municipal governments will need to revisit and rethink the zoning laws and approvals processes that govern their central business districts.
Landlords, meanwhile, will need to reexamine their retail leasing strategies. In some instances, this will involve reconsidering an aversion to short-term leases. Increasingly, online and brick-and-mortar retailers are weaving the pop-up shop concept into their marketing strategies.
Lastly, local chambers of commerce will need to become more forward-thinking as they look for new ways to enhance a suburban Main Street's leasable space, and they will have to do more to help retailers as they adjust to the changing retail landscape.
.
.For more information, please contact Jonathan Gordon, President/CEO or call 914.779.8200 x115

Admiral Real Estate Services Corp. is a commercial real estate brokerage firm offering retail leasing, site selection and investment sales services. Based in Westchester, the company currently lists and/or manages over 100 retail, office and development properties in the New York metropolitan area.
_________________________________________
.Tags: retail leasing, retail real estate, Westchester County retail real estate, Fairfield County retail real estate, New York ICSC Deal Making, retail leasing, retail vacancy, retail rents, site selection, tenant representation