CoStar Power Broker Award | 2021
Westchester & Fairfield County Commercial Real Estate | Admiral Real Estate Services Corp. is pleased to announce that, for the 12th consecutive year, Jonathan Gordon of Admiral Real Estate Services Corp. has been recognized as a CoStar Power Broker by CoStar Group.
Gordon qualified as a top broker in the Westchester / Connecticut commercial real estate market based on the total leasing transactions closed during the year.  Gordon has been the recipient of the CoStar Power Broker designation every year since 2010.
.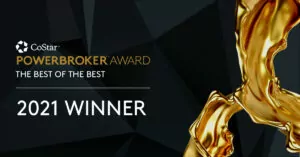 .
This annual award recognizes the "best of the best" in commercial real estate brokerage by spotlighting the U.S. firms and individual brokers who closed the highest transaction volume in commercial property sales or leases for the entire year of 2021 in their respective market.
As the largest professional research organization serving the commercial real estate industry, CoStar is uniquely positioned to identify the top firms and brokers in each market throughout the U.S.
"Every year we are honored to recognize those individual brokers and firms who have outperformed their peers," said CoStar Group founder and CEO Andrew C. Florance. "These industry leaders have demonstrated exceptional sales and leasing success, and we congratulate them on their achievement."
.
WESTCHESTER COMMERCIAL REAL ESTATE | Westchester County, immediately north of New York City, encompasses an area of approximately 433 square miles, and has within its borders, six cities, nineteen towns, and twenty-three villages, which provide living environments ranging from urban to rural, including some of the nation's most desirable residential communities. The past year of COVID safety protocols and widespread working from home has sparked renewed interest in open spaces and suburban living. At the same time, lifestyle preferences for the live-work-play benefits of an urban environment remain: residential density, walkability, access to public transportation, and nearby shopping, restaurants and entertainment. Many Westchester County towns were effectively built around Metro-North transit stations, so they offer a combination of both suburban living and urban live-work-play amenities.
Other Commercial Spaces in Westchester
.
FAIRFIELD COUNTY COMMERCIAL REAL ESTATE | Covering 625 square miles, Fairfield County CT is the southernmost county in Connecticut and nearest to New York City, which is only a short commute away. It contains some of the wealthiest communities in the country, often referred to as the "Gold Coast" due to its 30 miles of coastline along the Long Island Sound. Fairfield County CT has become a haven for investment management firms and hedge funds such as Bridgewater Associates (headquartered in Westport) and SAC Capital Advisors, but also for companies such as Newman's Own, Synchrony Financial and Starwood Property Trust. Colleges include Fairfield University and Sacred Heart University. The County's median income of $96,000 is over 50% higher than the U.S. average, and 10% higher than Manhattan's, buoyed by the particularly high-income towns of Greenwich, Westport, Darien and New Canaan. With a population of 950,000, the County generates retail spending power of $21 billion annually.
Other Commercial Spaces in Fairfield County
—————————————————————-
Admiral Real Estate Services Corp. is a commercial real estate brokerage firm offering agency leasing, site selection and investment sales services. Admiral currently lists and/or manages over 100 retail, office and development properties in the New York metropolitan area, specializing in Westchester County, NY, Fairfield County, CT and Bronx County, NY.