Record prices and diminishing returns for multifamily properties in the Bronx are fueling 1031 exchanges into nearby Fairfield and Westchester investment properties.

.
Expanded Universe of Buyers
While Admiral concentrates on investment sales in the suburban NY metro area, nearby markets have an influence on our universe of buyers. One such market is the Bronx, where real estate returns have been compressed by limited rent increases combined with rising expenses.
Simultaneously, low interest and capitalization rates have fueled record prices there, particularly for multifamily.  As a result, many owners have sold their Bronx holdings and are using the 1031 option to buy in nearby Fairfield and Westchester investment properties.
Expense Increases Have Diminished Multifamily Returns in the Bronx
On January 12th, the Wall Street Journal published an article about skyrocketing commercial property taxes, which have increased over 29% since 2013.  These increases have a big impact on net operating income, since taxes often comprise 50% or more of a property's total expenses.  Although in some instances, commercial property owners can pass these cost increases through to the tenant, that pass-through ability is limited for owners of multifamily properties, particularly if the units are rent regulated.

(Sources: NYC Annual Property Tax Report; Citizens Budget Commission & The Wall Street Journal)
60% of Bronx Multifamily Rentals are Rent Regulated
Of all New York City boroughs, the Bronx has the highest proportion of rent regulated units.

(Sources: "Rent Stabilization in New York City" by NYU's Furman Center for Real Estate & Urban Policy, "Selected Initial Findings of the 2014 New York City Housing & Vacancy Survey", U.S. Census, Admiral Real Estate Services Research)
Although rent increases for regulated apartments are limited, one of the benefits of owning regulated units is protection from market volatility.  In a soft market, owners of free market units may not have the power to raise rents annually, and in some cases may have to reduce rents.  Since rent stabilized units offer below-market rents, owners can generally count on small – but regular – annual increases.  This safety feature is less appealing, however, if approved increases from the Rent Guidelines Board do not keep pace with rising expenses.
Pro-Tenant Climate Has Limited Rent Increases for Regulated Units
Since 2014, regulated rent increases have been less dependable.  In 2015, for the first time in its 46-year history, the NYC Rent Guidelines Board voted for a freeze on rents for one-year leases – allowing no rent bumps at all – and an increase of only 2% on two-year leases.  Both were historic lows.  In July 2016, the NYC Rent Guidelines Board continued the same limited rent increases for the second year in a row.
.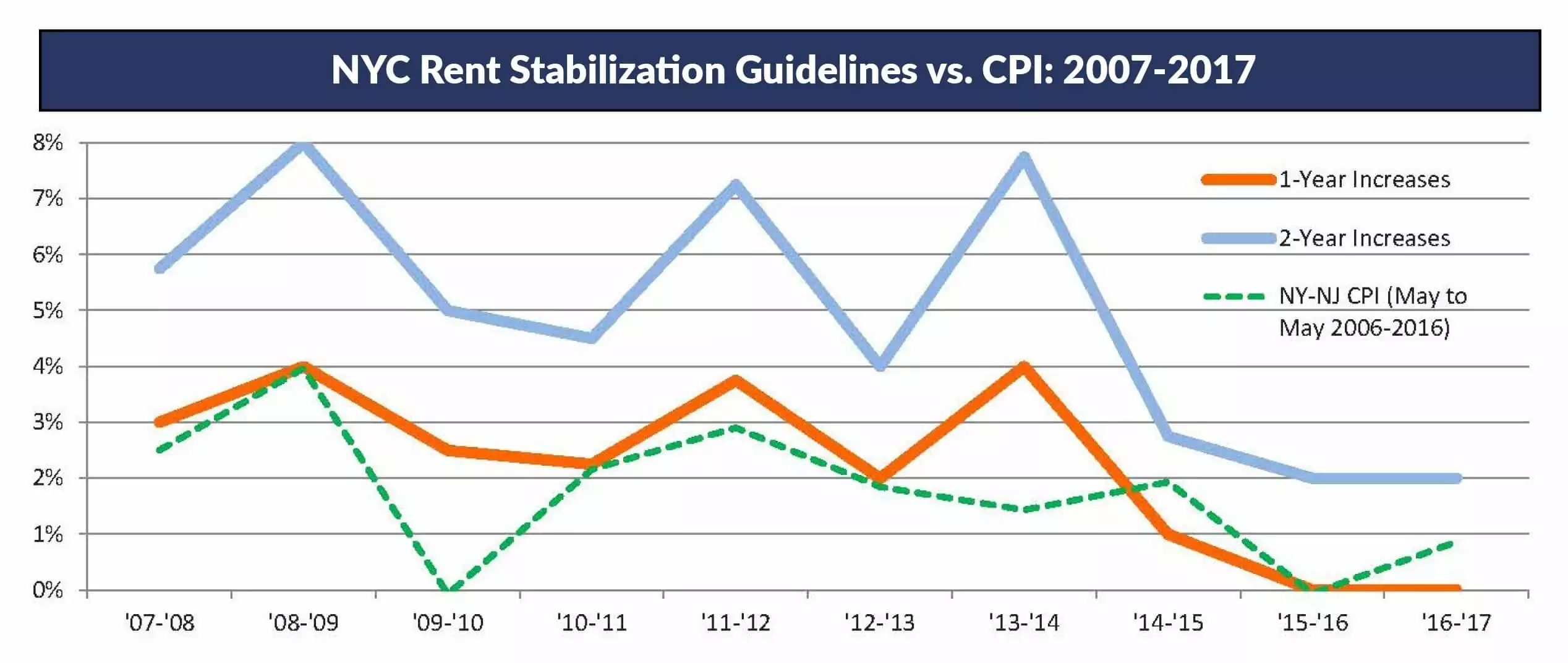 (Source: Admiral Real Estate Services Research)
Record Prices Are Fueling Bronx Sales
Cap rate compression has generated record-high pricing, buoyed by:
Historically low interest rates
Significant flow of investment dollars looking for an alternative to the stock market
Flood of foreign investors looking to preserve capital outside their respective economies
Perception of multifamily as being the safest of all asset classes
As a result, many investors priced out of the Manhattan and Brooklyn markets have been branching out into the Bronx.  These combined forces have pushed average sales prices above $150,000 per unit, slightly off of their all-time highs.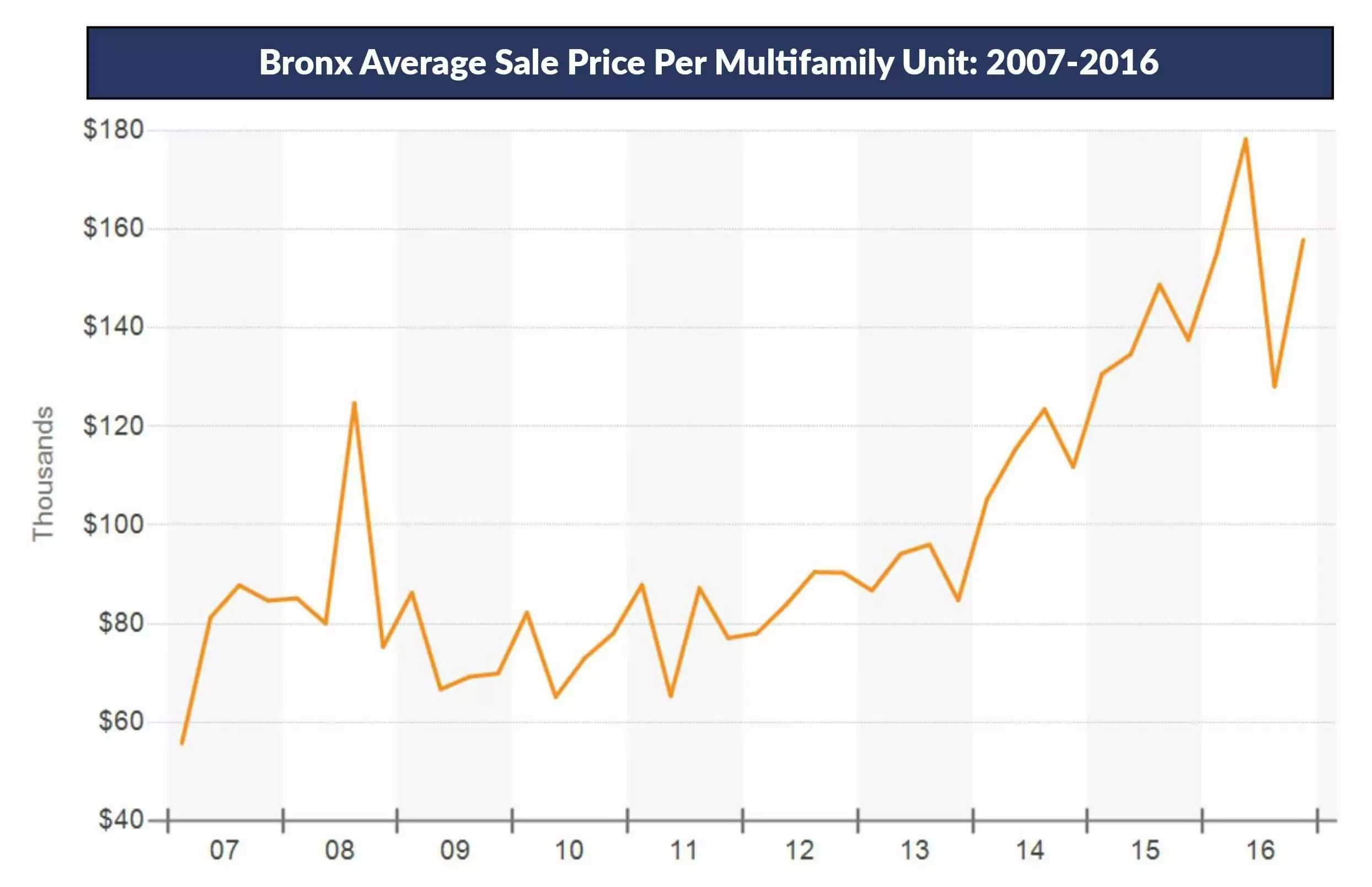 (Source: CoStar Group Inc.)
The same forces have also pushed sales volume higher: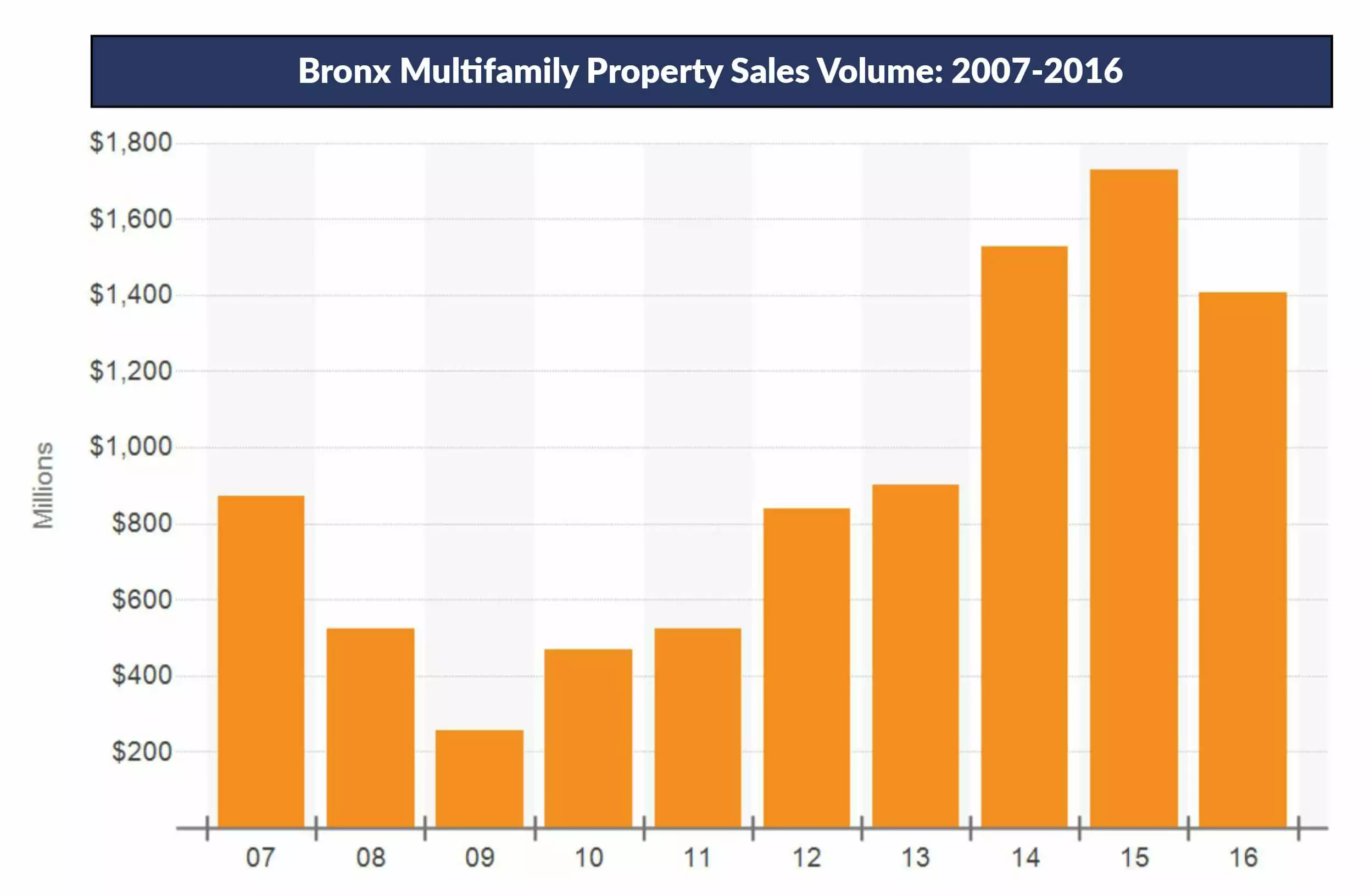 (Source: CoStar Group Inc.)
Reinvesting in Westchester and Fairfield
With prices at historic highs, returns declining and limited hope for near-term policy change, many multifamily owners have decided to take advantage of the strong sales market and reinvest in real estate outside of the Bronx.  This group of investors has expanded the already large pool of highly qualified buyers looking to invest in suburban NY metro markets.
Due to their proximity and relative safety and stability, Westchester and Fairfield Counties are two logical areas that a number of Bronx sellers have focused on for both new and 1031-exchange acquisitions.  Many of these investors are not limiting their acquisitions to multifamily, but are diversifying into other property types, as well, taking advantage of higher yield on retail and office properties.
For more information, please contact Jonathan Gordon, President/CEO or call 914.779.8200 x115.
—————————————————————
Admiral Real Estate Services Corp. is a commercial real estate brokerage firm which provides investment sales, agency leasing and tenant representation services. Based in Westchester, the company currently lists and/or manages over 100 retail, office and development properties in the New York metropolitan area. 
—————————————————————
Tags: westchester investment sales, westchester investment properties, fairfield investment sales, fairfield investment properties